Minot State student newspaper wins national award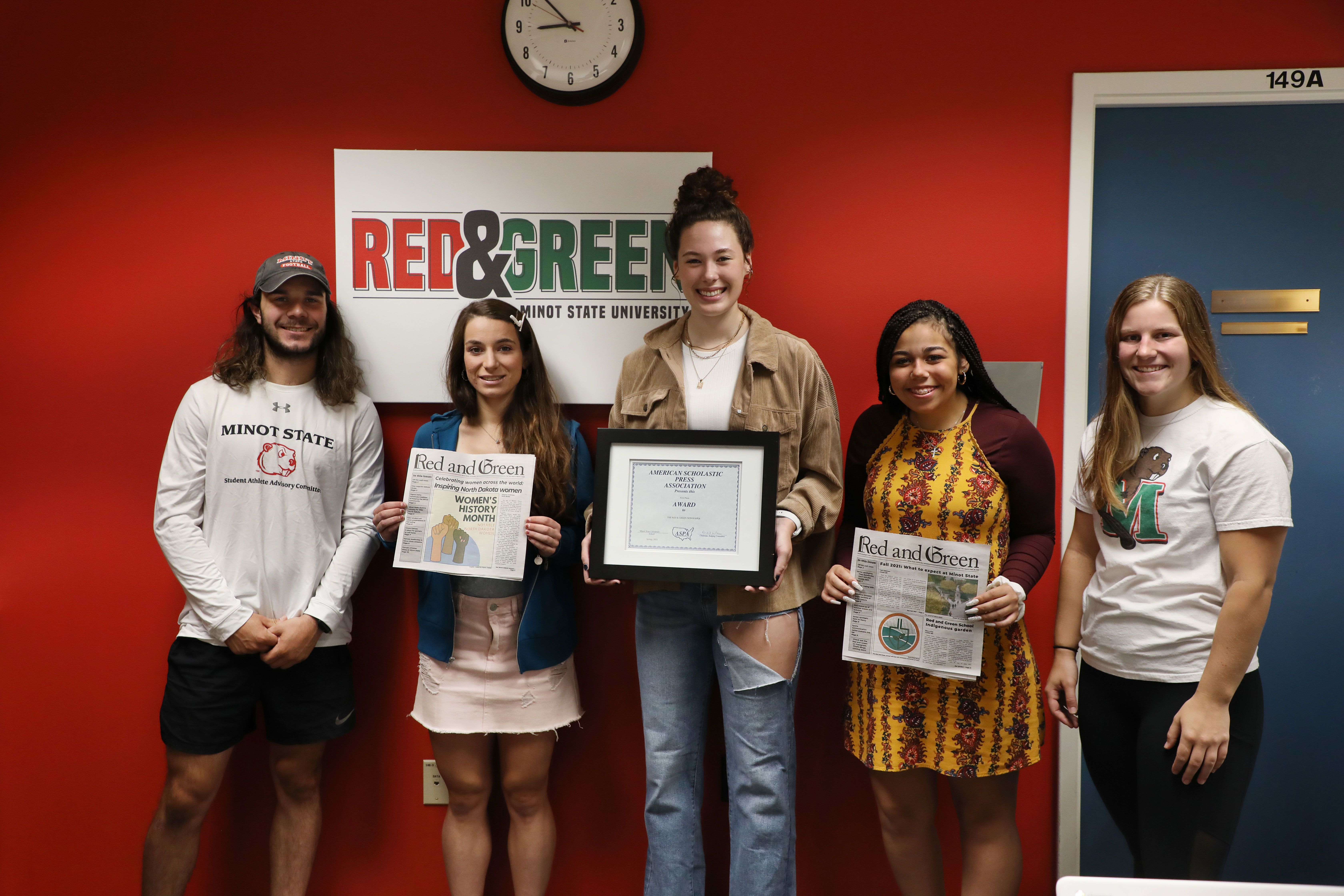 From left to right, the 2021-22 Red and Green editorial team: Philip Green, Lauren Reeves, Kylie Koontz, Miya Smalls, and Jane Wunderlich.
MINOT, N.D. – The Red and Green, Minot State University's student newspaper, was recently bestowed a first-place award from the American Scholastic Press Association.
The award was based on Spring 2021 print issues from Feb. 11 and March 11.
"This award is a testament to the editorial team's hard work and their dedication to covering the campus and community news that matters most to students, even in the face of the pandemic," said Alison McAfee, Red and Green advisor and professional communication instructor. "It is particularly meaningful to receive this honor during such a challenging time. We are looking forward to another great year under the 2021-22 news team."
The student editorial team for the semester included Alyson Heisler, editor; Kylie Koontz, assistant editor; Lauren Reeves, features editor; Philip Green; sports editor; and Calli Delsman, social media director.
"I'm proud to be a part of the team that was given this award last year," said Koontz. "With some new additions to the team — Miya Smalls and Jane Wunderlich — and our amazing feature editor Lauren Reeves and sports writer Philip Green, we are hoping this is the first of many awards to add to our achievements this year."
Koontz moves into the editor role for the 2021-22 school year with Reeves and Green returning to their positions.
"I'm excited about this upcoming year for the Red and Green. It's great to be able to write more about campus life and interact with students more again," said Reeves. "Our staff of writers and photographers is growing a lot this year, which is insane and exciting at the same time since we are always in need of people to help us."
The Red and Green publishes six print newspapers a semester and has an online presence at RedGreenPaper.com and on Facebook, Instagram, and Twitter. Their first issue for Fall 2021 will be available on Sept. 16.
Established in 1922, the newspaper will celebrate their 100th anniversary this spring.
About Minot State University
Minot State University is a public university dedicated to excellence in education, scholarship, and community engagement achieved through rigorous academic experiences, active learning environments, commitment to public service, and a vibrant campus life.
---