Minot State University Homecoming events Oct. 6-9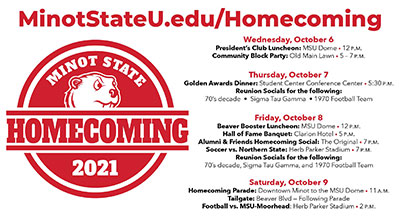 MINOT, N.D. – Minot State University will celebrate Homecoming 2021 Oct. 6-9 with several in-person events.
"Our traditional events are back this year, and we hope to see many alumni, family, and friends on campus for this exciting week," said Janna McKechnie, director of alumni relations and annual giving.
Events begin Wednesday, Oct. 6 with the annual President's Club Luncheon at 12 p.m. Honoring Minot State donors who have gifted $1,000 or more to the University over the past year, the event will take place in the MSU Dome due to a large class of President's Club members.
Later that night, a Community Block Party will take place on the Old Main Lawn from 5-7 p.m.
"The block party is our kick-off event to the week," said McKechnie. "It's a great opportunity for our alumni and friends to be on campus and help us celebrate. There will be free food, games, and activities for families."
MSUWell's annual Homecoming 5K Fun Run/Walk is also Wednesday and will begin at 5:30 p.m., starting at the Wellness Center and ending at the block party. The cost for the run/walk is $30 for community members, faculty, and staff; $15 for all students; and free for ages 12 and under. Participants can register the day of the race at the Wellness Center at 4:30 p.m. or ONLINE. All proceeds benefit the MSUWell Scholarship Fund.
Thursday, Oct. 7 will feature the Golden Awards Dinner beginning at 5:30 p.m. in the Student Center Conference Center. Due to COVID-19 restrictions on large in-person gatherings in 2020, individuals from the 2020 and 2021 classes will be featured.
Honorees from 2020 include Chuck Barney, Josh Duhamel, Terry (Ferebee) Eckmann '81/'82, and John Schwan '82. The Young Alumni Achievement Award winner was Joseph Brewer '04. The 2021 award recipients are Les Anderson '68, Michael LeBeau '95, Kevin Neuharth '74, and Arnold Strebe '86. This year's Young Alumni Achievement Award winner is Evan Meiers '10.
"We are excited to honor two years' worth of exceptional Golden Award and Young Alumni Achievement Award winners," said McKechnie. "The Golden Awards are the highest award bestowed by the Minot State University Alumni Association." 
A full day of events will be held on Friday, Oct. 8 beginning with a Beaver Booster Luncheon at the MSU Dome at 12 p.m. Academic Hall of Fame member Tim Henry will be honored during a social scheduled for 3 p.m. with an award presentation at 3:30 p.m. at the Minot State Conference Center. Finally, the Athletic Hall of Fame Banquet, located at the Clarion Hotel, starts at 5 p.m. At 7 p.m., make your way to The Original for the Alumni & Friends Homecoming Social or Herb Parker Stadium as women's soccer takes on Northern State.

"Our alumni and friends social is a fun event for everyone to attend," said McKechnie. "Our featured reunion groups are the 70s decade, Sigma Tau Gamma Fraternity, and the 1970 Hall of Fame Football Team."
The week will culminate on Saturday, Oct. 9 beginning with the Homecoming Parade at 11 a.m. Beginning in Downtown Minot, the parade will end at the MSU Dome where tailgating will immediately commence on Beaver Boulevard.
The Homecoming football game will begin at 2 p.m. at Herb Parker Stadium when the Beavers clash with MSU-Moorhead.
About Minot State University
Minot State University is a public university dedicated to excellence in education, scholarship, and community engagement achieved through rigorous academic experiences, active learning environments, commitment to public service, and a vibrant campus life.
---