Minot State to award Milton Rolle with honorary degree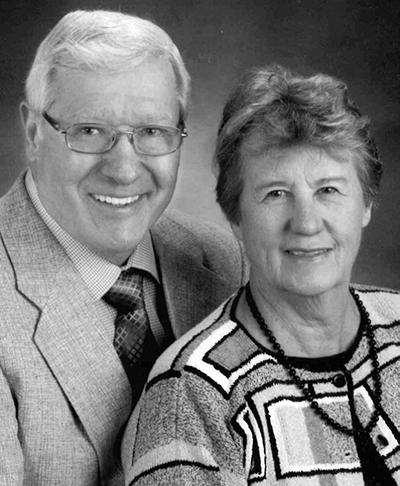 MINOT, N.D. – Minot State University President Dr. Steven Shirley will present longtime Minot resident Milton Rolle with an honorary degree at the University's 2021 Commencement ceremony.
Minot State's 106th Commencement Exercise will be live with limited capacity starting at 10 a.m. May 14. MSU will honor its 2021 and 2020 graduating classes at the ceremony as 2020's live event was canceled due to COVID-19.
The University will bestow Rolle with an Honorary Bachelor of General Studies degree.
The title fits him perfectly.
"I had fabulous teachers at Minot State Teachers College, which is what we called it, and got a heck of an education," Rolle, a native of Brinsmade, said. "But I never really tried to get an actual degree. I took classes that I thought would benefit me in life. I took every course that I thought would be an advantage to me, from income tax and accounting to speech and writing.
"So, it came as somewhat of a pleasant surprise when Dr. Shirley told me about the honorary degree. I've been associated with Minot State since 1956 and nobody had really talked much about a degree, but I can tell you I got quite an education."
Rolle has been involved in real estate and development activities for over 50 years and was one of the founding members of the real estate company Brokers 12. He and his wife Bonnie, who is a 1971 Minot State graduate, have been active in Minot for decades supporting major events such as the North Dakota State Fair and the Norsk Hostfest as well as championing the Minot Air Force Base.
"When I learned the Air Force was going to build a base 12 miles north of here, I knew what a benefit that would be for Minot," he said. "I investigated it thoroughly and knew there was an opportunity there. The Base has always been a huge benefit to Minot.
"The same with the North Dakota State Fair. There used to be multiple state fairs at various towns and Minot wanted to get the one true state fair. We worked to get that the same way Minot worked to get a teacher's college here or get the (Dome) here. Minot has always had to fight a lot of battles."

"Milt has been a tireless advocate for Minot, the surrounding region, and his home state of North Dakota for many decades, and we are so pleased to recognize him this year with the rest of the MSU graduating class," Shirley said.
He began his academic career at Minot State after completing two years in the U.S. Army and serving in the Korean War. Rolle left MSU just a few credits short of a degree after establishing himself in the rental and real estate market.
"It has certainly been a fun ride with Minot State. When I started here there was the one and only building, Main — I don't think we called it 'Old' then either — and it has been wonderful to watch it grow," Rolle said. "What amazed me were the quality of instructors here coming from a small community like I did. I really enjoyed going to school here and have enjoyed working with Minot State."
Milton and Bonnie regularly attend Minot State events held annually on campus and have supported many important University initiatives throughout the years. Milton has been on numerous committees and boards including an active participant in the 2018 memorial dedication event for MSU students who died in WWI.
"Milt along with his wife Bonnie have had a long and proud association with Minot State University for 65 years, and Milt's bestowal with an honorary degree is a most fitting accomplishment he has definitely earned," added Shirley about his work with Minot State.
About Minot State University
Minot State University is a public university dedicated to excellence in education, scholarship, and community engagement achieved through rigorous academic experiences, active learning environments, commitment to public service, and a vibrant campus life.
---