Hess Corporation donates laptop computers to Minot State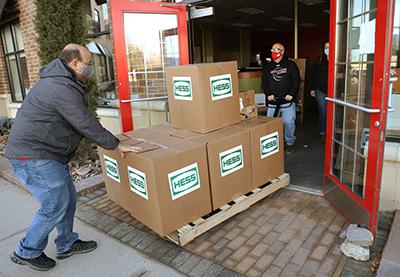 MINOT, N.D. – Minot State University bolstered its laptop inventory for distance learning thanks to a donation of 189 computers by Hess Corporation.
Minot State plans to utilize the laptops for HyFlex and virtual learning with the donation, increasing the number of computers available for check out by nearly five-fold.
"We appreciate the generosity of Hess Corporation with the donation of laptops for our students," said Rick Hedberg, MSU vice president for advancement and MSU Development Foundation executive director. "The COVID-19 pandemic has been extremely disruptive to many of our students and we have a large number of students taking at least a portion of their classes online.  This wonderful donation from Hess Corporation has allowed us to distribute these laptops to students in need, allowing them to continue their education and keep them on track for a degree.
"Hess continues to be a wonderful community partner in so many ways and with so many non-profits in our region.  We are fortunate to have Hess Corporation and their employees in Minot."
Hess Corporation's IT department worked with MSU IT in the transfer process. Hess has also worked with the MSU Development Foundation for its MSU Summer Theatre Revitalization project that broke ground in October.

"We have seen a positive impact on getting technology into the hands of students," said Brent Lohnes, Hess ND general manager. "It's a pleasure to continue our collaboration with Minot State University and to provide computers to help students on campus."
The MSU IT department has been busy reimaging the computers for use in the classroom and has doubled its current capacity for check out. Along with students virtual learning environments, the computers can be used by faculty and staff that have been forced to work from home.
ABOUT HESS CORPORATION
Hess Corporation is a leading global independent energy company engaged in the exploration and production of crude oil and natural gas. Hess has maintained a presence in North Dakota since 1951 and is today one of the largest producers of oil and gas in the state. Hess is committed to meeting the highest standards of corporate citizenship and creating a positive impact on the communities where we operate. In North Dakota Hess has supported numerous community organizations across the state, investing approximately $1 million in 2020 alone.
About Minot State University
Minot State University is a public university dedicated to excellence in education, scholarship, and community engagement achieved through rigorous academic experiences, active learning environments, commitment to public service, and a vibrant campus life.
---