Alumni Speaker Series: Entrepreneur Scott Bintz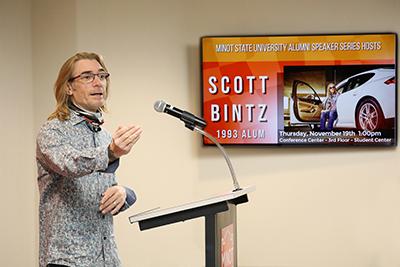 MINOT, N.D. – Minot State University welcomed back alumnus Scott Bintz, E-commerce entrepreneur, author, and founder of RealTruck.com, for an Alumni Speaker Series presentation Thursday at the MSU Student Center Conference Center.
Bintz, a 1993 MSU graduate with a degree in economics, related multiple stories of how he went from a "poor kid" to building multiple successful companies, including lessons he learned while at Minot State.
"At Minot State, I learned a couple key things," Bintz said. "First, I learned how to learn. You have to be able to do that. And, I learned how to learn fast. I'm a last-minute guy. When I was younger, I would hate myself for it, but like all things, curses can also be blessings. When you wait to the last minute, you can be highly efficient. If I have a month to do a paper, it will take a month. When I have two hours to bust out 50 pages, I'm highly efficient because I don't have time to mess around."
He founded RealTruck.com in the basement of a duplex in 1998, growing the company to a $100 million E-commerce super store. RealTruck. com has been consistently recognized as a Top Place to Work by ND Young Peoples and Prairie Business Magazine and earned other recognitions like Bizrate Platinum Circle of Excellence and Internet Retails top 300 mobile and top 500 E-commerce companies.
"The idea behind RealTruck was it was going to be a generic website where I would convince all these brick and mortar stores to put their products on it and sell their products," he said. "But, we kept working on RealTruck and it would sell a little more and a little more each month. Often times with a new idea, you are going to encounter people who don't think it's going to work. But we kept after it."
"The Severson Entrepreneurship Academy was excited to have him on campus and share his experience and wisdom," said Chuck Barney, director, Severson Entrepreneurship Academy.
Along with RealTruck.com, Bintz authored the book "Principles to Fortune."

"When I decided to write a book, a friend of mine said, 'but you're not a writer,' and he was right, I didn't think I could do that, I'm not a very good writer," Bintz said. "But about a year later, I was thinking, this story needs to be told. Here is a story about average everyday people from North Dakota that created this great business with no money and no Ivy Leagers. I figured it can't be that hard to write a book, a number of people have done it."
After selling RealTruck, Bintz created the Red Headed Rebel brand, which advises manufacturers on E-commerce and has several divisions including RH Rebel, a property development company, and RH Rebel Storage, state-of-the-art self-storage facilities. In the E-commerce sector, he has created RHRSwag.com, a race parts manufacturer, and Red Headed Rebel Brew, coffee for entrepreneurs, rebels, and rule breakers.
"We were dabbling in racing stuff, but now we are back in the truck accessories," he said of RHRSwag.com. "We got some of the old crew back and we said let's do it again. A couple months later we are back together, we are selling truck parts, and having a little fun."
About Minot State University
Minot State University is a public university dedicated to excellence in education, scholarship, and community engagement achieved through rigorous academic experiences, active learning environments, commitment to public service, and a vibrant campus life.
---