Spring 2021 registration open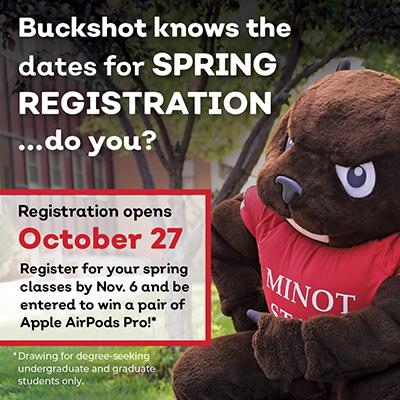 MINOT, N.D. – Minot State University's Spring 2021 semester registration opens with priority registration on Tuesday, Oct. 27 for all currently enrolled MSU students.
Current Minot State degree seeking undergraduate or graduate students who enroll by Nov. 6 are automatically entered in a drawing for a pair of Apple AirPod Pro earbuds. The first 100 students who share their Spring 2021 schedule with MSU Life will receive a free cup of coffee at the Beaver Dam Coffee Shop.
"By reaching out to your academic advisor to discuss your course plan, classes, and account holds, students can be prepared to find the best class options for them," said Katie Tyler, MSU director of enrollment services.
Students can register for classes after the Nov. 6 date, but classes are subject to availability and students can only be entered into the drawing for the earbuds if registration is completed before the end date.
MSU students should also consult their academic advisor by appointment and check with the MSU registrar's office by EMAIL for any holds on their account prior to beginning their Spring 2021 schedule.
"Spring semester will again be a mix of face-to-face, HyFlex, and online course offerings," said Laurie Geller, MSU vice president for academic affairs. "Students should meet with their advisors and register for spring classes as soon as possible to ensure they get the classes they need in the formats they want."
New and transfer students must complete virtual new student orientation before enrolling and should check their email for information on how to sign up. Contact the Minot State admissions office for any questions.
Classes are scheduled to begin on Monday, Jan. 11, 2021 after 4 p.m.
About Minot State University
Minot State University is a public university dedicated to excellence in education, scholarship, and community engagement achieved through rigorous academic experiences, active learning environments, commitment to public service, and a vibrant campus life.
---