Minot State mourns the passing of Dr. Doris Slaaten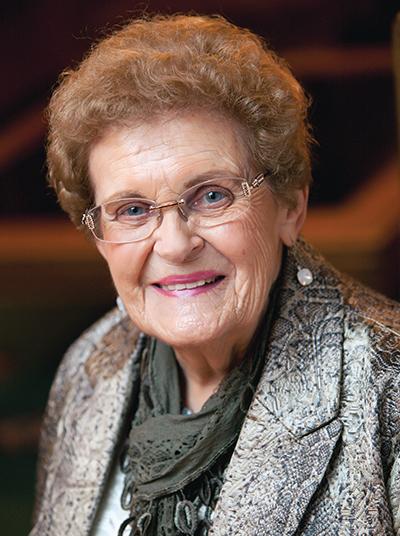 MINOT, N.D. – The Minot State University community is saddened to learn of the passing of longtime professor, MSU Development Foundation Board member, and friend of the University, Doris Slaaten, who died at the age of 100 on Sunday.
Slaaten's connection to Minot State began in 1949 when she graduated from Minot State Teacher's College with a bachelor's degree in English and a minor in business. After teaching elementary and secondary school in North Dakota and Montana, she returned to her alma mater to teach in the College of Business for 27 years.
"The entire Minot State University community of students, faculty, and staff, along with thousands of alumni as well as her former colleagues, are saddened by the passing of Dr. Doris Slaaten," said Minot State President Dr. Steven Shirley. "Doris was a pillar in the MSU family, and she left an indelible mark on this campus over the course of so many decades. It was certainly a special occasion earlier this month as she celebrated her 100th birthday, and we will certainly never forget Doris and the incredibly positive impact she had on Minot State University and the Minot community."
Among her many contributions to the University are the Slaaten Learning Center in the College of Business on the third floor of Old Main and the Northwest Arts Center's new home in the Gordon B. Olson Library. Slaaten was also the chair of the University's Kimball Organ Restoration Campaign at Ann Nicole Nelson Hall.
The Slaaten Learning Center was renovated in 2011 following a gift to the University to enhance student development, supplement scholarships, and provide for on-going support, including the creation of a video-conference board room, financial trading lab, and study space.
"Doris was a special lady," said Rick Hedberg, MSU Development Foundation executive director. "If I had to use one word to describe Doris it would be 'class,' as she always exhibited the highest degree of integrity and grace. She was such a caring person. There's a reason why she is revered by so many of her former students. She led a wonderful life and has left a lasting legacy."
Active as a public servant, Slaaten served on several University boards including the Development Foundation, was a charter member of the MSU Board of Regents, a founding member of the advisory board of Phi Beta Lambda, and was a member of the MSU Legacy Society and Old Main Society.
Along with her bachelor's degree from MSU, Slaaten earned a Master of Arts degree from Northwestern University and her doctorate from Colorado State University.
Slaaten was a Professor Emeritus in the College of Business and earned the MSU Alumni Association's Golden Award, the highest honor bestowed by the association based on outstanding service to the University or the Alumni Association and distinguished leadership in their career or community, in 1979.
About Minot State University
Minot State University is a public university dedicated to excellence in education, scholarship, and community engagement achieved through rigorous academic experiences, active learning environments, commitment to public service, and a vibrant campus life.
---