Minot State names Becker, Henry to Academic Hall of Fame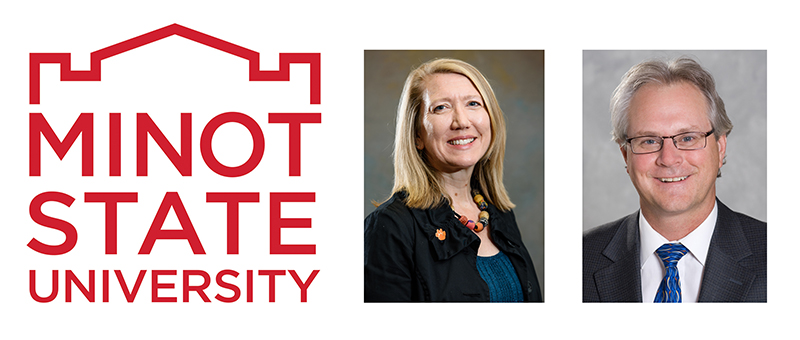 MINOT, N.D. – The Minot State University's Academic Hall of Fame committee has chosen two outstanding alumni in Dr. Becky Becker and Dr. Tim Henry as members of the Class of 2020.
Due to ongoing restrictions for large gatherings this fall, the Class of 2020 will be honored at a social and program during 2021 Homecoming events.
Becker is currently a professor of theater in the Department of Performing Arts at Clemson University in Clemson, South Carolina. In addition to her teaching career in theater history, dramaturgy, playwriting, and devising performance, Becker has been a director, dramaturg, and playwright.
Henry is a cardiovascular interventionist at The Christ Hospital in Cincinnati, Ohio. He serves as the Lindner Family Distinguished Chair in clinical research and is the Medical Director of The Carl and Edyth Lindner Center for Research at the Christ Hospital. Henry is a pioneer in the treatment of myocardial infarction.
"Minot State is proud to announce two new members to the Academic Hall of Fame," said Minot State Vice President for Academic Affairs Laurie Geller. "Both Dr. Becker and Dr. Henry are talented individuals who are leaders and innovators in their respective fields of work. Each has shown great passion for their work and have inspired those around them as mentors and colleagues. While it was a difficult decision to postpone our events until next year, I am excited to welcome both back to the MSU campus next year."
The duo joins nine others in the Minot State Academic Hall of Fame, including Veronica Pinnick, who was inducted last year. Carrie Forshner Evans, Lisa Feldner, Delane C. Kristky, and Rosanne Olson were a part of the inaugural class in 2011, Robert Holmen and Joe Alme in 2012, Kim Baldridge in 2013, and Robert Hubbard was inducted in 2014.
Becker, originally from Minot, grew up participating in band, choir, and theater from fourth grade through high school. She earned two degrees from Minot State, in communication arts and English. Becker also earned a Master of Arts in theatre arts at the University of North Dakota and completed her doctorate from Bowling Green State University.
"Being acknowledged by my undergraduate institution means so much because Minot State is where I developed a deeper love of learning, a stronger work ethic, and the beginnings of an artistic vision that helped to shape my career," Becker said. "It means the world to me to be honored by the university responsible for setting me on this path."

Prior to working at Clemson, she was a professor of theater at Columbus State University (CSU), serving as assistant director for Center for Global Engagement at CSU and was an associate professor in theater at Truman State University.
Becker has directed a wide range of established works as well as new pieces such as "Companeras," by Kathleen Coudle-King, "The Old Ship of Zion," by Natalia Temesgen, and "Eddie's Stone Song: Odyssey of the First Pasaquoyan." by Scott Wilkerson and James Ogurn She has conceived, written, and directed several oral history plays, including "Westville: Collected Lives" and "Bibb City: Collected Lives from a Mill Town."
Along with teaching, Becker is the chair of the national Playwriting Program for Region 4 of the Kennedy Center American College Theatre Festival and serves on the editorial board for Theatre Symposium: A Journal of the Southeastern Theatre Conference.
She and her husband, Mark Jarzewiak, live in Seneca, South Carolina, with two dogs and two cats. Her twin stepsons, Jaz and Ian Jarzewiak, both live and work in Atlanta.
Originally from Westhope, Henry attended Minot State from 1974-77 before graduating from medical school at the University of California, San Francisco in 1982. He did his internal medicine residency and chief residency at the University of Colorado Health Sciences Center from 1982 to 1986 and completed his training as a cardiology fellow, chief cardiology fellow, and interventional cardiology fellow at University of Minnesota in 1991.
"This is tremendously special for me — very humbling," Henry said. "Hopefully, I can be a mentor and an example of what you can accomplish at Minot State. The University is such an important institution regionally. People ask where I went to school and I tell them, 'I'm a Beaver.' I look back and this is where I spent my formative years, I have a very strong affinity to Minot State."

Henry has published over 500 manuscripts and book chapters and has served on the Emergency Care Committee for the American College of Cardiology (ACC), the American Heart Association (AHA) Mission: Lifeline Advisory Committee, the AHA Acute Cardiac Care Committee, ACC Interventional Subcommittee, and the Executive Committee for the Society for Cardiovascular Angiography and Interventions.
Prior to The Lindner Research Center, he was the chief of cardiology at the Smidt Heart Institute at Cedars Sinai Medical Center, a professor of medicine at Cedars-Sinai and UCLA, and was the director of research at the Minneapolis Heart Institute Foundation.
Henry is also a member of the Minot State Athletics Hall of Fame as a member of the 1977 men's track & field team, inducted in 1995. Among other awards, Henry has been named to the Best Doctors in America list each year between 2007 and 2017.
Induction into the Minot State University Academic Hall of Fame honors meritorious service in an academic discipline and highlights the accomplishments of our most distinguished alumni. Nominations may be made by any individual or organization, either within Minot State University or from the community at large. Nominees must be Minot State alumni who completed a significant portion of their education at Minot State, gone on to complete an advanced degree, and made a substantial contribution to the advancement of their field of study.
More information on the Minot State Academic Hall of Fame, including past winners and to nominate individuals, can be accessed ONLINE.
About Minot State University
Minot State University is a public university dedicated to excellence in education, scholarship, and community engagement achieved through rigorous academic experiences, active learning environments, commitment to public service, and a vibrant campus life.
---