Summer Golf Tour returns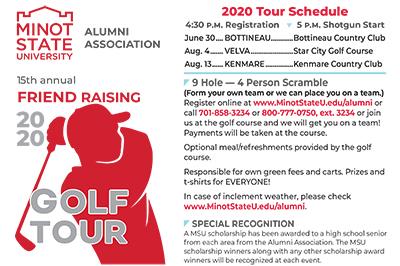 MINOT, N.D. – The Minot State University Alumni Association's annual Friend Raising Golf Tour is set to make its 2020 debut at the Bottineau Country Club Tuesday, June 30.
The Friend Raising Golf Tour is in its 15th season. Due to COVID-19, the opening event at the Star City Golf Course in Velva was postponed to Aug. 4. Minot State will again return to the Kenmare Country Club on Aug. 13.
"We hope to see everyone at one or all three of the Friend Raising Golf Tour stops this year," said Janna McKechnie, director of alumni and annual giving. "We are excited to be able to again put these events on. Each stop on the tour is a fun evening and a chance to visit with fellow alumni and friends of the University."
Registration for each 9-hole, 4-person scramble begins at 4:30 p.m. with a shotgun start set for 5 p.m. Players can make their own teams or teams will be assigned at registration. Online registration is at MinotStateU.edu/alumni. Individuals can call to register at 701-858-3234 or 800-777-0750, ext. 3234 or sign up at the course. Green fees and cart rentals are taken at the course.
There will be an optional meal/refreshments provided by the golf course and prizes and t-shirts for everyone will be given away after the round of golf is completed. A Minot State scholarship winner will be recognized at each event.
About Minot State University
Minot State University is a public university dedicated to excellence in education, scholarship, and community engagement achieved through rigorous academic experiences, active learning environments, commitment to public service, and a vibrant campus life.
---