Lipp joins Minot State Development Foundation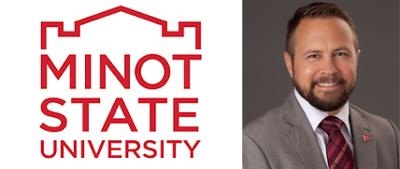 MINOT, N.D. – The Minot State University Development Foundation announced Wednesday that 1990 graduate Steve Lipp has joined the Foundation as a development officer.
Lipp, a Minot native, worked for the past six years for Bishop Ryan Catholic School as the Director of Mission Advancement and Foundation. Prior to working with Bishop Ryan, he practiced chiropractic in Minot for over 20 years.
"Having passion for the mission of Minot State and its importance for its students, the alumni, as well as the city of Minot is one reason why I accepted the position," said Lipp. "Just as it was nice coming back to my first alma mater in Bishop Ryan, coming back to my second alma mater in Minot State is very exciting, and I am looking forward to working with the great development team that is in place at Minot State. They have been doing some great things!"
MSU Development Foundation Executive Director Rick Hedberg is looking forward to having Lipp's extensive experience on board.
"Steve brings a lot to our team at the MSU Development Foundation. First of all, he's a wonderful person who has been active in the community for many years," Hedberg said. "As an alum of Minot State, he has the institutional knowledge and will be able to hit the ground running. He has done a wonderful job of building the Bishop Ryan Foundation and Advancement office over that last six years. He knows the importance of building relationships and engaging folks. I know our team is excited to bring him on board."
Lipp believes working with the Bishop Ryan Foundation, along with being a business owner in Minot, will help him move the MSU Development Foundation forward.
"I have really enjoyed my position at Bishop Ryan over the past six years. Telling the story, developing relationships, and re-engaging the alumni to be philanthropic to the mission of the school has been very enjoyable and rewarding," he said. "I have been responsible for all of the fundraising and philanthropic support of Bishop Ryan in all aspects, from annual giving, major gifts, events, endowments, and capital campaigning. This experience will certainly help me to assist Minot State with their philanthropic needs.
"Being a Minot native and owning and operating a business in Minot for over 20 years has allowed me to develop a deep network of constituents."
Lipp earned his bachelor's degree from Minot State in human biology in 1990. He concluded a stellar career as a student-athlete earning NAIA All-American honors in 1989 and 1990 and was inducted into the Minot State Athletic Hall of Fame in 2008.
He earned a Doctor of Chiropractic degree from Northwestern College of Chiropractic in 1994 and received a graduate certificate in philanthropy from the University of Mary in 2018.
Lipp has been married to fellow 1990 Minot State grad Trini (Lach) Lipp and the couple have three adult children, Madelyn (Lipp) Dinkel, Max, and Murphy, and two grandchildren.
About Minot State University
Minot State University is a public university dedicated to excellence in education, scholarship, and community engagement achieved through rigorous academic experiences, active learning environments, commitment to public service, and a vibrant campus life.
---