Minot Symphony Orchestra presents family concert Feb. 8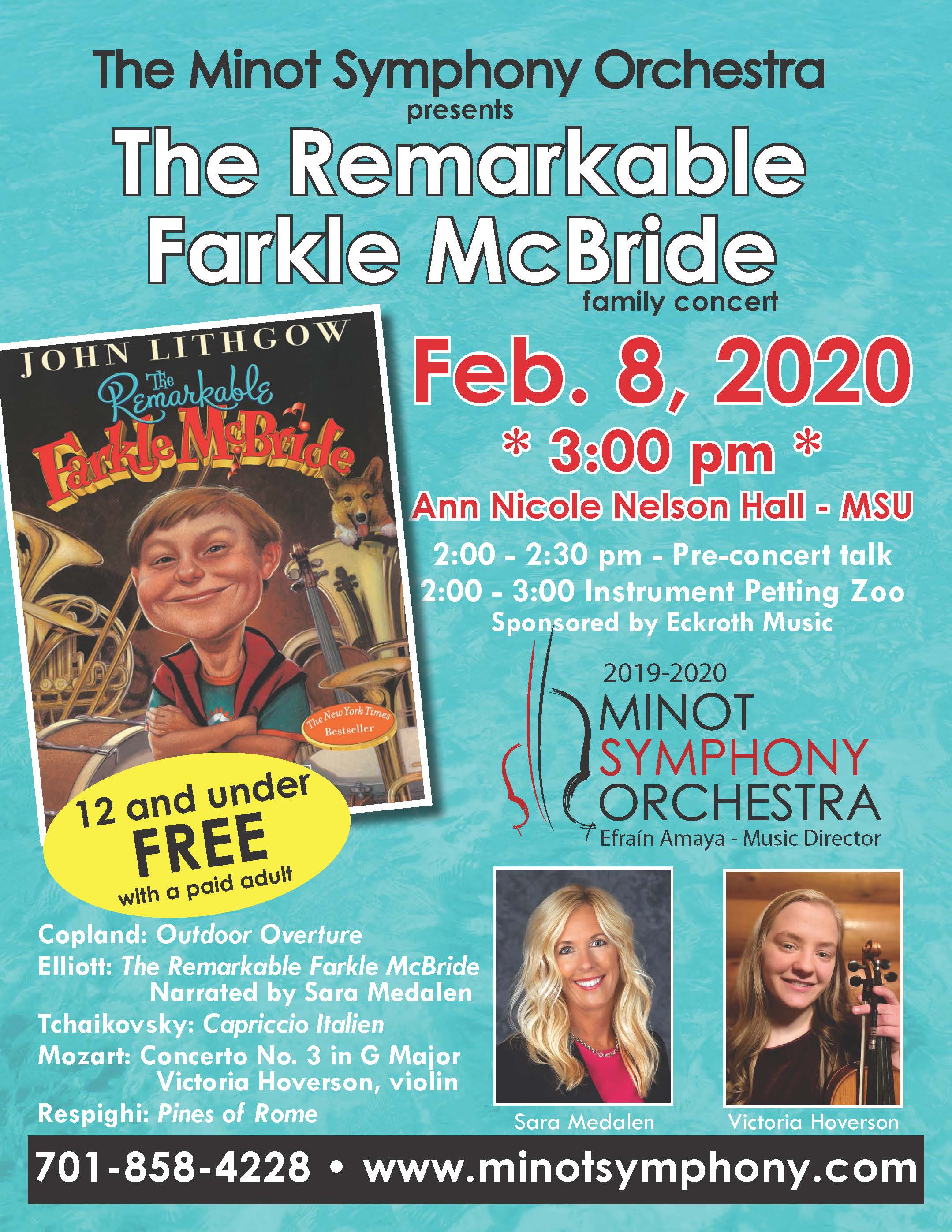 MINOT, N.D. –  The Minot Symphony Orchestra will present an afternoon of entertainment for the whole family at "The Remarkable Farkle McBride." The concert will take place on Saturday, Feb. 8 at Minot State's Ann Nicole Nelson Hall at 3 p.m. A pre-concert lecture and instrument petting zoo will start at 2 p.m.
"We are trying something different with our family concert on Feb. 8, we will have our concert at 3 p.m. to make it easier for families with children to come to the concert," said Efraín Amaya, Minot Symphony Orchestra Maestro and assistant professor of music at Minot State University. "We'll perform Copland's 'Outdoor Overture' written for the High School of Music and Art in New York City. The audience will enjoy the tale of 'The Remarkable Farkle McBride' in his quest for the perfect instrument he wants to play. We will also be featuring this year's Young Concerto Competition winner."
The family concert program includes Aaron Copland's "Outdoor Overture," Bill Elliot's "The Remarkable Farkle McBride" with text by John Lithgow, Tchaikovsky's "Capriccio Italien," Mozart's Violin Concerto No. 3, and Respighi's "Pines of Rome."
Victoria Hoverson, a home-schooled sophomore from Minot, will be the featured soloist for Mozart's Violin Concerto No. 3 in G Major. She has been playing piano for 10 years and violin for six years. Hoverson was chosen as the winner of the annual Young Concerto Competition at a live audition held in December.
"I have been blessed to have Tori as one of my violin students for the past six and a half years. She started violin about the age of 9 and has so blossomed as a violinist in the last few years. She has consistently risen to whatever musical challenges she has been given and I am so excited for her to have this incredible opportunity to share her love of music with the Minot Symphony," said Trish Hinkel, private violin instructor.
Sara Medalen will join the symphony as the guest narrator for "The Remarkable Farkle McBride." Medalen is a reading and math interventionist at Sunnyside Elementary. Her Books & Braids Program went viral and earned national recognition on many news platforms including the CBS National News. Medalen is the 2020 North Dakota Teacher of the Year and nominee for LifeChanger of the Year. She holds a Bachelor of Arts Degree in Elementary Education and Deaf Education and a Master of Science Degree in Special Education from Minot State University.
Children of all ages will have the chance to get up close and personal with a few of the instruments you will see on stage during the concert. Eckroth Music will offer an Instrument Petting Zoo from 2–3 p.m. and during intermission. The pre-concert talk at 2 p.m. will help prepare concertgoers for a more complete listening experience. These pre-concert activities are free with your concert ticket.
Don't miss the Minot Symphony Orchestra's family concert, "The Remarkable Farkle McBride," part of the 2019-2020 concert series, "Homegrown," at 3 p.m. on Feb. 8. Tickets start at $25 for adults with senior and student discounts. Children 12 and under will receive free admission with a paid adult for this concert. Tickets can be purchased online at www.minotsymphony.com or call 701-858-4228. 
The Minot Symphony Orchestra is a University and community orchestra that has been performing for Northwest North Dakota for over 90 years and is comprised of a unique blend of student, community, and professional musicians, directed by Amaya.
This project is supported in part by a grant from the North Dakota Council on the Arts, which receives funding from the state legislature and the National Endowment for the Arts. A community grant from Xcel Energy also supports this family concert.
About Minot State University
Minot State University is a public university dedicated to excellence in education, scholarship, and community engagement achieved through rigorous academic experiences, active learning environments, commitment to public service, and a vibrant campus life.
---