Minot State to host 19th annual ND Intercollegiate Band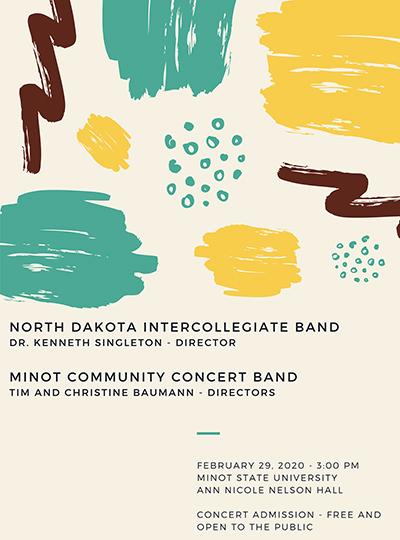 MINOT, N.D. – College musicians from all over North Dakota will gather in Ann Nicole Nelson Hall on Saturday, Feb. 29 at 3 p.m. to perform together in the 19th annual North Dakota Intercollegiate Band (NDIB).
The band consists of 69 students from colleges in Bismarck, Dickinson, Fargo, Jamestown, Grand Forks, Valley City, Williston, and Minot State, from which 13 musicians will participate.
The location of NDIC changes from year to year, but it has not been held at Minot State since assistant music professor and director of Minot State bands David Rolandson has been at the University.
"I am excited that MSU will be hosting this year," he said. "I think it is important for students and directors from around the state to experience performing in our beautiful Ann Nicole Nelson Hall and to also see that positive musical things are happening at MSU."
This year's NDIB guest conductor is recently retired music professor Kenneth Singleton from the University of Northern Colorado.
The concert is in conjunction with the Minot Community Concert Band and is free and open to the public.
About Minot State University
Minot State University is a public university dedicated to excellence in education, scholarship, and community engagement achieved through rigorous academic experiences, active learning environments, commitment to public service, and a vibrant campus life.
---