International Artist Series: Maxwell String Quartet from the UK debuts in North Dakota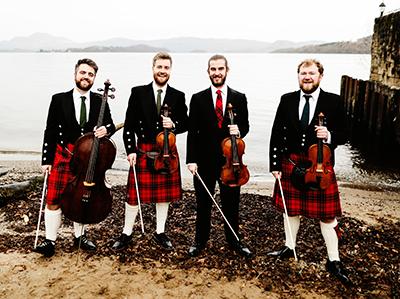 MINOT, N.D. – Four close friends from Scotland and England will perform a folk and classical mashup in Ann Nicole Nelson Hall on March 3 at 7:30 p.m. for their first performance of their spring tour.
Formed in 2010 during their postgraduate programs, the quartet has won many awards and held many titles, currently acting as the Associate Artist at the Royal Conservatory of Scotland in Glasgow.
According to their website, "We believe 'Folk' music is the root, the fundament of classical music, and our approach aims to marry the two together in a unique, free, and meaningful way. For us, every melody is a song, every rhythm a dance."
This philosophy will be featured during their children's outreach on Tuesday, March 3 at 4 p.m. and at their main performance at 7:30 p.m. that evening, both held in Ann Nicole Nelson Hall.  Their program consists of original arrangements of traditional Scottish folk music off their latest album as well as come classical composers like Haydn, Debussy, and Schubert.
The Maxwell Quartet has never performed in North Dakota, and they are excited to see new parts of the United States.
"The tour will last the whole of March taking us all over the USA and ending it in South Dakota. We have spent January touring in the southern and western states and are looking forward to seeing more of America this Spring!" the group said.
About Minot State University
Minot State University is a public university dedicated to excellence in education, scholarship, and community engagement achieved through rigorous academic experiences, active learning environments, commitment to public service, and a vibrant campus life.
---