DECA finishes with record number of national qualifiers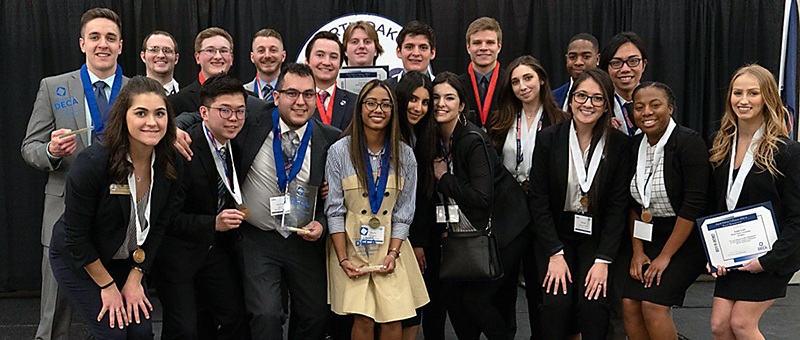 MINOT, N.D. – The Minot State University chapter of DECA finished the North Dakota Collegiate DECA Contest with a record 19 individuals qualified for the International Career Development Conference in Atlanta later in the spring.
Competitions at the state level were held in Individual Case Studies, Prepared Events, and Team Case Studies. Minot State had two individuals, Tyler Sinden and Emily Love finish with first place finishes in Comprehensive Exam during the Individual Case Studies events, while Jonathon Vo earned first place in Prepared Events. Sinden paired with Jameson Hayden for a first-place finish and the team of Aurora Polonio and Juan Diego Jaimes captured first in Team Case Studies.
"The state conference is always an exciting time of year as it is time for the MSU students to showcase their skills and represent the University and the education that is provided to them," said Tawnya Bernsdorf, Minot State DECA advisor and College of Business instructor. "I am always extremely happy to see our DECA members recognized for their achievements, the excitement on their faces is one of the best feelings to get as an advisor. Seeing the students get recognized and seeing them achieve something they have never done before is wonderful. Their hard work and determination is key and it helps them see what they are capable of."
The qualifiers from the state level will travel to Atlanta in April for the international conference.
In Individual Case Studies, Sinden finished in second place overall and earned his first place Comprehensive Exam in Entrepreneurship Operations, while Love finished in third place overall with her first in Comprehensive Exam in Retail Management. Steve Novak finished in second place overall and earned a second place Comprehensive Exam in Corporate Finance. Brett Hlebechuk and Vo finished in second and third place respectively in Travel and Tourism.
Vo's first place in Prepared Events came in Professional Sales. Sinden was third in Entrepreneurship Starting a Business, while the team of Dorion Cipriani and Jorge Talamantes were third in Advertising Campaign.
In Team Case Study, Sinden and Hayden finished in first place in Business to Business Marketing, while Polonio and Jaimes took home the title in Financial Statement Analysis.
For all of Minot State DECA's placewinners, see list below:
North Dakota Collegiate DECA Contest
Individual Case Studies
Entrepreneurship Operations

Tyler Sinden, 2nd Place, 1st Place Comprehensive Exam

Corporate Finance

Steve Novak, 2nd Place, 2nd Place Comprehensive Exam

Human Resource Management
Retail Management

Emily Love, 3rd Place, 1st Place Comprehensive Exam
Gavin Mercer, 5th Place

Restaurant & Food Service Management

Dorion Cipriani, 3rd Place Comprehensive Exam

Sales Management Meeting

Travis Smith, 3rd Place, 3rd Place Comprehensive Exam

Travel and Tourism

Brett Hlebechuk, 2nd Place
Jonathan Vo, 3rd Place
Prepared Events
Advertising Campaign

Dorion Cipriani & Jorge Talamantes, 3rd Place

Entrepreneurship Starting a Business
Professional Sales
Team Case Study
Business to Business Marketing

Tyler Sinden & Jameson Hayden, 1st Place

Business Ethics

Juliana Alarcon Diaz & Hiromu Ogahara, 3rd Place

Event Planning

Brett Hlebechuk & Gavin Mercer, 2nd Place
Alexandra Demko & Emily Love, 3rd Place

Financial Statement Analysis

Aurora Polonio & Juan Diego Jaimes, 1st Place

International Marketing

Ludny Desert & Jonathan Vo, 3rd Place

Marketing Communications

Nabeeha Latif & Alivia McCulley, 3rd Place

Sports & Entertainment Marketing

Aymee Soares & Travis Smith, Top 6
About Minot State University
Minot State University is a public university dedicated to excellence in education, scholarship, and community engagement achieved through rigorous academic experiences, active learning environments, commitment to public service, and a vibrant campus life.
---