Martinson Davis returns to MSU for 'Hansel and Gretel'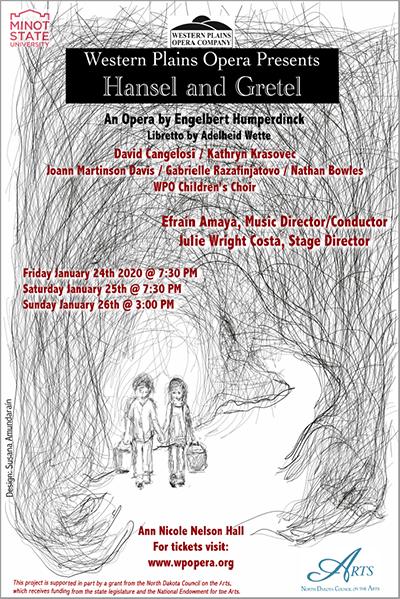 MINOT, N.D. – Minot State University alumnae Joann Martinson Davis is thrilled to return to North Dakota as Gretel in the Western Plains Opera's production of "Hansel and Gretel," set for Jan. 24, 25, and 26 at Minot State's Ann Nicole Nelson Hall.
Originally from Rolette, Martinson Davis excelled in high school and at Minot State. As the only pianist in her high school, she became the accompanist for the choir as well as solos and small groups. At Minot State, where she was recruited by music professor DeVera Bowles, she became a leader in the music division and a star soprano in many performances. Her opera debut was with Western Plains Opera in the role of Barbarina (Le nozze di Figaro) in 2002.
"I'm incredibly excited to be back in Minot with incredible former teachers whom I now consider fabulous colleagues and in the beautiful Ann Nicole Nelson Hall," she said.
Along with Martinson Davis, "Hansel and Gretel," an opera by Engelbert Humperdinck, will feature David Cangelosi, Kathryn Krasovec, Gabrielle Razafinjatovo, Nathan Bowles, and the Western Plains Opera Children's Choir. Efrain Amaya, assistant professor of music at Minot State, is the production's music director and conductor, while Julie Wright Costa is the stage director.
"Hansel and Gretel" will be performed at 7:30 p.m. both Friday, Jan. 24 and Saturday, Jan. 25 with a 3 p.m. performance on Sunday, Jan. 26. Tickets are $30 for premium, $25 for Zone A, and $20 for Zone B. Minot State students and anyone 18 and under are $10. For a complete list seating for Western Plains Opera productions or more information, see wpopera.org.
Martinson Davis most recently made her Opéra Louisiane debut and has appeared with other such opera companies as Greensboro Opera, Western Plains Opera, Louisiana Opera, and Emerald City Opera. Her opera roles include Norina, Yum-Yum, Violetta, Adele, Le Feu (L'enfant et les Sortilèges), Monica, Lola, Mabel, The Fairy Godmother (Cendrillon), Frasquita, and Gretel. Martinson Davis has performed as a soloist in Mahler's Symphony No. 4, Mendelssohn's "Elijah," Händel's "Messiah," Mozart's "Requiem," Vivaldi Gloria, Saint-Säens's "Christmas Oratorio," Bach's "St. John Passion," Mozart's "Coronation Mass," and Dan Forrest's "Requiem for the Living." Such concerts have been with the Minot Symphony, Vermont Philharmonic, Coeur d'Alene, Symphony in the Valley, UNCG Symphony and Lynchburg Chamber Orchestras. 
She has earned rave reviews for her portrayal of Gretel, including the following during her performance with the Greensboro Opera:
"Not the sort of chirping soubrette often heard in the rôle, Martinson Davis was a gratifyingly full-voiced Gretel who encountered no problems with the girl's top notes and trills. Martinson Davis's Gretel joyously greeted the morning after a harrowing night in the forest with a sensational top D. Many of the world's opera companies regularly stage "Hänsel und Gretel," but few of them offer their audiences Hänsels and Gretels as captivating as Greensboro's." —  Voix des Arts
Along with the review, Martinson Davis's list of awards include Audience Favorite and the Puccini Award with the Orpheus Competition, the Orchestral Performance Award with the Bel Canto Institute, along with awards from the Coeur d'Alene Young Artist, Symphony in the Valley, Long Leaf Opera, The American Prize, and Heafner/Williams Competitions, She was also a finalist in the Harold Haugh Light Opera Competition.
She earned her Bachelor of Art in Music Performance at Minot State and her master's degree in music from the University of North Carolina Greensboro. Martinson Davis is an annual performer in the New Music On The Bayou festival in Louisiana. She currently lives in Ruston, Louisiana with her husband where she is a collaborative pianist and vocal coach at Louisiana Tech University. She also combines her love of singing, which is using the human body to make music, with an interest in physical fitness. As her side job, she is a group fitness instructor.
About Minot State University
Minot State University is a public university dedicated to excellence in education, scholarship, and community engagement achieved through rigorous academic experiences, active learning environments, commitment to public service, and a vibrant campus life.
---