Minot State to hold 'Lou Trombetta Memorial Night'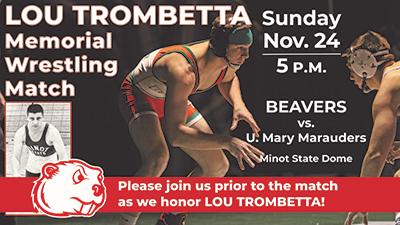 MINOT, N.D. – Minot State University and Minot State wrestling will honor the life of former student-athlete Lou Trombetta with the team's home opening dual named "Lou Trombetta Memorial Night," against rival University of Mary Sunday, Nov. 24.
The dual is set to begin at 5 p.m. at the Minot State Dome. The University will honor Trombetta with a short program at the beginning of the match. There will also be an "overtime" social after the dual at the Spicy Pie.
Trombetta, a 1967 Minot State graduate, passed away in March 2019 at his home in Carnegie, Pennsylvania. He was a longtime health and physical education teacher and golf coach at Chartiers Valley Schools.
He wrestled for two seasons for the Beavers, compiling a 10-6-1 individual record, helping MSU to two North Dakota Collegiate Athletic Conference championships including a perfect 14-0 team dual record in 1966-67. In 1965-66, Trombetta went 8-3-1 and helped the Beavers to their highest national finish, ninth in the NAIA Championships. The 1965-66 team was inducted into the Minot State Athletics Hall of Fame in 2008.
Trombetta and John Theisen '67, launched the Gamma Delta Chapter of the Sigma Tau Gamma Fraternity at Minot State in 1965. The Sigma Tau Gamma Fraternity celebrated its 50th anniversary with a reunion in 2015.
About Minot State University
Minot State University is a public university dedicated to excellence in education, scholarship, and community engagement achieved through rigorous academic experiences, active learning environments, commitment to public service, and a vibrant campus life.
---