NOTSTOCK 2019: Three days of hands-on, all hands-in community arts events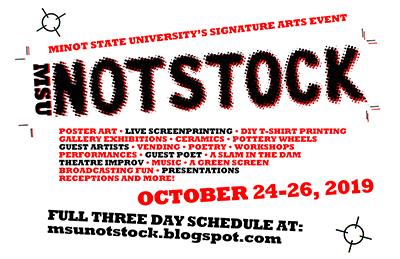 MINOT, N.D. – Minot State University's NOTSTOCK 2019 continues to offer multiple hands-in, hands-on opportunities for the community to participate in the arts.
In its 13th year, Minot State's annual live, signature arts event celebrates three days of printmaking, poetry, music, ceramics, theater, and broadcasting and features two special art exhibits. Most events take place on the MSU campus Oct. 24-26 and all are free and open to the public.
This year's festivities will feature six guest artists, as well as art, music, and other creative opportunities provided by Minot State students, faculty, and staff, and local artists and musicians. 
"On the outside, NOTSTOCK might appear to be entertainment, but it is layered with education, exposure, and opportunity for all ages," Vice President for Academic Affairs and NOTSTOCK co-founder Laurie Geller said. "It celebrates the arts and exposes the campus and community to multiple artists and their art forms from across the country."
The six featured guest artists include Melissa Lozada-Oliva of New York, Lisa York of Savanna, Illinois, Daniel Bachman of Charlottesville, Virginia, New England-based Calvin Laituri, Paul Kreizenbeck of Sacramento, California, and Amos Paul Kennedy Jr. of Detroit.
Lozada-Oliva is a published poet, performer, and podcaster who has performed at universities and venues across the country. Lozada-Oliva's book "Peluda," published by Button Poetry in 2017, explores the intersections of Latina identity, feminism, hair removal, and what it means to belong. Her work has been featured in REMEZCLA, The Guardian, Vulture, Bustle, Glamour Magazine, The Huffington Post, Muzzle Magazine, The Adroit Journal, and BBC Mundo.
York creates ceramics for special occasions and daily use, working primarily with forms finished in a soda kiln. York was an artist-in-residence in China, Hungary, and Germany. In Tanzania, she started a ceramics program that trains people with disabilities to become skilled artisans. Her functional ceramics have been exhibited nationally and internationally.
Bachman is a guitarist and drone musician who has been featured on NPR. He has recorded eight albums in seven years. In 2015, he made Rolling Stone magazine's list of "10 Artists You Need to Know." An NPR review described Bachman's style as "sculpting sound, with an openness to ideas that forces convention to take a back seat."
Laituri is a graphic designer, illustrator, letterhead, and screen printer. Laituri's work chases the fleeting tendencies of memory and the sublimity of the natural world.
Paul Kreizenbeck is a graphic designer interested in illustration, printmaking, identity design, and packaging.
Kennedy Jr. is an American printer, book artist, and papermaker. Kennedy Jr. uses traditional letterpress techniques that incorporate rich colors and hand-pulled prints along with themes and commentary that speak to race and class. He was the subject of filmmaker Laura Zingler's documentary, "Proceed and Be Bold!" He teaches and lectures all over the United States and is recognized as one of America's most accomplished artists.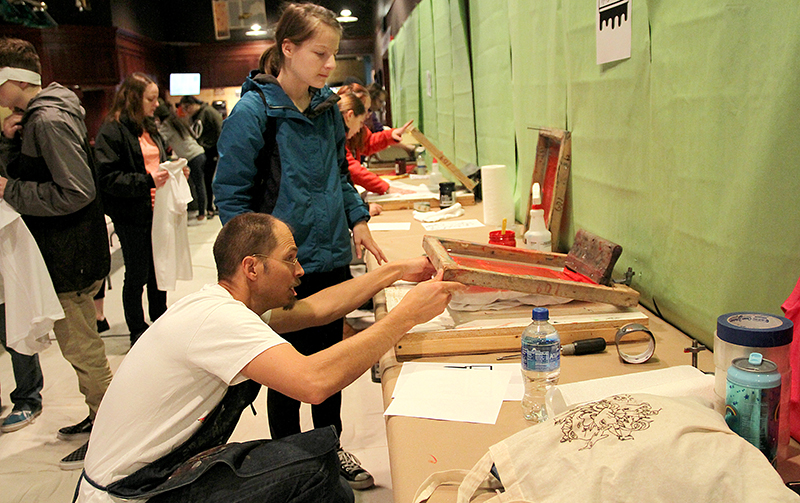 NOTSTOCK begins Thursday, Oct. 24. Kennedy Jr., Laituri, and Kreizenbeck will print live in the Beaver Dam and Northwest Arts Center from 9 a.m. to 5 p.m. During this same time, DIY screen printing stations are available to everyone along with live music in Beaver Dam.
POTSTOCK will feature ceramics demonstrations by York, as well as MSU faculty and students in the Student Center Atrium from 9 a.m.-4 p.m. Concurrently, the Minot State Broadcasting and Professional Communication Department will have a green screen in the Beaver Dam for guests to create fun images for social media and more. The green screen will also be featured on Friday from 9 a.m.-3 p.m.
Other Thursday activities include Laituri's and York's presentations in Aleshire Theater from 10-11 a.m. and 12-1 p.m., respectively. Professor Aili Davidson Smith will present the theatre games workshop, "Improv, Movement & Laughter," 11 a.m.-noon, in the Black Box Theater in Hartnett Hall. At the same time, Daniel Bachman will play in the Beaver Dam, and Lozada-Oliva will present the WORDSTOCK Poetry Workshop in the Student Center Conference Room, with a second workshop from 1 to 2 p.m.
The works of Kennedy Jr., Laituri, and Kreizenbeck will be on exhibit in the Northwest Arts Center, lower level of Gordon B. Olson Library from 10 a.m.-5 p.m., with an artists' reception from 7-7:30 p.m. featuring music by Bachman and live printing by Kennedy Jr. Also, on display will be Elmer Thompson: The Inventor from North Dakota Museum of Art-Rural Arts Initiative Exhibition. Both exhibits will be on display through Saturday, Oct. 26, at 5 p.m.
Closing out Thursday's events will be a special poetry performance by Lozada-Oliva in the Northwest Arts Center, 7:30-8:30 p.m. following the reception.
Live printing with Kennedy Jr., Laituri, and Kreizenbeck, DIY screen printing, ceramics demonstrations with York, and live music from Bachman and others continues on Friday, Oct. 25 at the same times and places.
Also on Friday, Kreizenbeck and Kennedy Jr. will give presentations from 10-11 a.m. and 12-1 p.m., respectively, in Aleshire Theater. Lozada-Oliva will present the WORDSTOCK Poetry Workshop in the Student Center Conference Room from 10 a.m. to noon. At 1 p.m. she will host a poetry slam in the Beaver Dam. Anyone can share a poem and compete for awards and prizes.
Saturday, Oct. 26, is community day at NOTSTOCK from 10 a.m.-3 p.m. in the Student Center. Bring a t-shirt or tote bag for DIY printing while listening to live music in the Beaver Dam. Sit at a pottery wheel or watch ceramic demonstrations with York in the Atrium. And don't miss Kennedy Jr., Laituri, and Kreizenbeck as they wrap up their NOTSTOCK prints in the Beaver Dam. All artists will have artwork for sale. "Come hang out! It is a great way for kids and adults to spend part of a Saturday. Everyone is welcome," Geller said. 
A closing reception for WORD-POT-and NOTSTOCK guests will be held at 62 Doors Gallery and Studios (11B S. Main St.) at 7 p.m. Join the artists for art, food, drinks, and live music. 

"NOTSTOCK enlivens and enriches the campus and community and encourages participation in the arts; everyone has the opportunity to create art while at the event, which is why we call it 'hands-in, hands-on.' It also allows students and faculty to work alongside some of the top professionals in their fields to learn new techniques, build confidence, ask questions, and network. These experiences lead to connections and future opportunities for students to participate in internships, field trips, studio visits, and more with these and other artists," Geller said.
All NOTSTOCK events are free and open to the public. For a list of all events, visit https://msunotstock.blogspot.com/.
About Minot State University
Minot State University is a public university dedicated to excellence in education, scholarship, and community engagement achieved through rigorous academic experiences, active learning environments, commitment to public service, and a vibrant campus life.
---