Campus and Community Dialogues presents 'Ghosts and the Paranormal: Real or Fantasy?'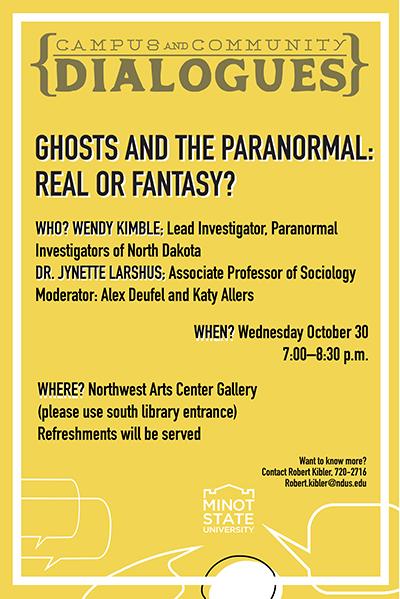 MINOT, N.D. – The popular Minot State University Campus and Community Dialogues series will return for its third year with an event titled, "Ghosts and the Paranormal: Real or Fantasy?" on Wednesday, Oct. 30.
The Campus and Community Dialogues debuted in the 2017-18 academic year and has drawn large crowds for each event. The first of the 2019-20 academic year is set for 7 to 8:30 p.m. at the Minot State Northwest Arts Center, located in the lower level of the Gordon B. Olson Library.
"Want ghosts? We open the door on our third season MSU Campus-Community Dialogues with a discussion about ghosts — if you can believe it — the night before Halloween. Spirits and minions of all ages and dispositions welcome to the Northwest Arts Center. Please join us, point your fingers, tell your tales. There is safety in numbers. See you then — if you dare. Wait, what is that…?" said Robert Kibler, chair, foreign languages, humanities, and literature.
Campus and Community Dialogues "Ghosts and the Paranormal: Real or Fantasy?" will feature Wendy Kimble, lead investigator of Paranormal Investigators of North Dakota and Jynette Larshus, Minot State associate professor of sociology, along with moderators Alex Deufel, Minot State professor of biology, and Katy Allers, administrative assistant in the MSU Humanities Division.
The event is free of charge and refreshments will be provided. The entrance is on the south side of the library. Those unable to attend can livestream the event on the Minot State's FACEBOOK page.
For more information, contact Kibler at 701-720-2716 or by EMAIL.
About Minot State University
Minot State University is a public university dedicated to excellence in education, scholarship, and community engagement achieved through rigorous academic experiences, active learning environments, commitment to public service, and a vibrant campus life.
---