Family, community drive Kirkhammer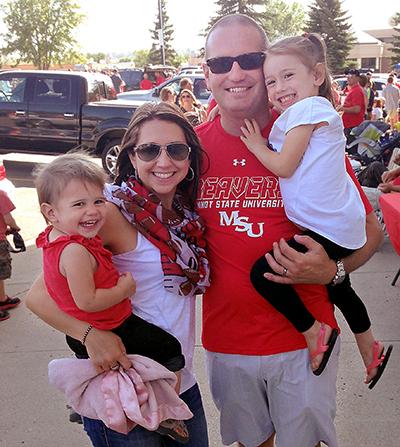 MINOT, N.D. – For Minot State University Alumni Association President Chelsea Kirkhammer, family and community are two driving forces in her day to day life.
The Mohall native decided to attend Minot State after graduating high school, choosing a university that was not only in state, but also close to home.
After graduating from MSU with a degree in marketing and management in 2006, Kirkhammer has never stopped giving back to the Minot State community.
"I loved my time at Minot State, and I met some great people there," she said. "I just want to see it continue to succeed."
Kirkhammer chose to call Minot home and put her marketing skills to use with companies such as Magic City Implement and United Community Bank.
She became a member of the Minot State Alumni Association in 2012. The association's mission of promoting positive relationships among the Minot State community appealed to her. The group plans numerous events every year including the Gala and the Arizona reunion held every spring. 
The MSU Alumni Association is a major contributor to student success, fundraising thousands of dollars in scholarships each year.
Kirkhammer was elected to serve as Alumni Association President in 2018 after serving as Vice President the previous two years.
"I had been on the board for a while and I felt like I was ready to serve as president," Kirkhammer said.
As president, Kirkhammer is focused on making more money for scholarships and continuing the success of the annual Minot State Gala event.
"It's our largest fundraising event of the year, so every president wants to grow it," she said.

Kirkhammer is the marketing coordinator for the Minot Area Community Foundation and part owner of Clean Tech. She believes that being a business owner herself helps with her responsibilities as alumni president especially outreach and fundraising with local businesses.
She and her husband, Kent, live in Minot and have three children, Elin, Madelyn, and Crosby.
Now in her last year as alumni president, Kirkhammer looks forward to planning one more successful Gala and planning some new events before stepping down. However, she is adamant that she will stay involved as a member of the association's executive committee.
Kirkhammer urges anyone who is looking to meet and stay connected with fellow alumni and support the Minot State community to participate in the Alumni Association.
"We're always looking for new board members," she said.
About Minot State University
Minot State University is a public university dedicated to excellence in education, scholarship, and community engagement achieved through rigorous academic experiences, active learning environments, commitment to public service, and a vibrant campus life.
---