Alumni Association presents speakers Saba, Schwan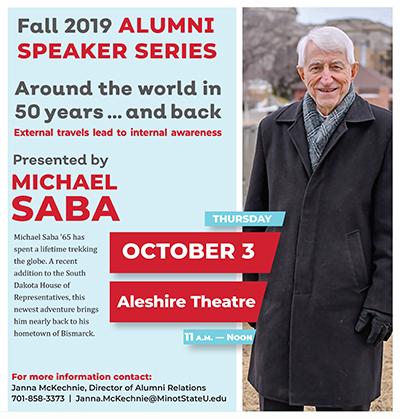 MINOT, N.D. – The Minot State University Alumni Association is proud to present Michael Saba and John Schwan as upcoming Alumni Speaker Series guests Thursday, Oct. 3.
Saba and Schwan are the first two Alumni Speaker Series guests in 2019. In 2018, the MSU Alumni Association established the series to bring prominent alumni from across the world back to campus to share their expertise.
"We are excited to have both Michael and John back to campus for the Alumni Speaker Series," said Janna McKechnie, Minot State director of alumni and annual giving. "They will share their unique experiences with MSU faculty, staff, students, and the greater Minot community. We cannot thank them enough to share their time with us and can't wait to have them back at MSU."
Saba will speak at Aleshire Theater at Harnett Hall at 11 a.m. on Oct. 3. A member of the incoming 2019 class of Golden Award winners, Saba, a 1965 graduate, has spent a lifetime trekking the globe. He recently was elected to the South Dakota House of Representatives. He has extensive international business experience. Saba's address is free and open to the public.
Schwan will address the Minot State Entrepreneurship and Finance Clubs at 1 p.m. in Old Main. As founder, president, and CEO of Schwan Financial Group, he has established a national estate planning firm with over 35 years of serving clients and their families at the highest levels with a holistic approach. Schwan has been recognized as a leader in the industry, making frequent presentations at national events and has been included in many major publications.
For more information on the two upcoming Alumni Speaker Series events or to nominate an individual for future events, contact McKechnie via EMAIL.
About Minot State University
Minot State University is a public university dedicated to excellence in education, scholarship, and community engagement achieved through rigorous academic experiences, active learning environments, commitment to public service, and a vibrant campus life.
---