Minot State to open Academic Support Center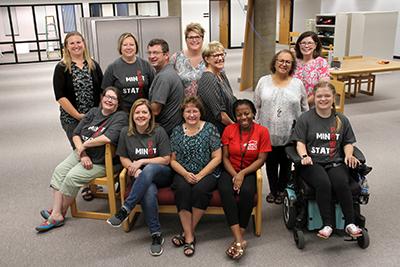 MINOT, N.D. – Minot State University has consolidated multiple services under one roof as the University announced the Academic Support Center (ASC) will open in September in the lower level of the Gordon B. Olson Library.
Construction on the 10,000-plus-foot physical space in the Gordon B. Olson Library started during the summer and is scheduled to be completed by Sept. 15. The combined space will offer a one-stop shop location, merging several offices into one welcoming and comfortable space. Until the completion of the Center, individual offices on campus will continue to provide support for students.
"In the past, Minot State students who needed academic support were directed to a variety of different offices located in a myriad of places across campus. This often caused confusion for the students, faculty, and staff," said Erik Kana, assistant vice president for academic affairs. "This fall, with all academic support services in one location, students who need any type of academic assistance will just visit the lower level of the Gordon B. Olson Library, and personnel there will be able to find the correct service for each individual student without sending them to another office."
Minot State named Beth Odahlen, director of the Center for Engaged Teaching and Learning, as the Academic Support Center director in July. MSU has also announced a new position within the Center as Kelly Lichtenberger has been named as a staff advisor. She will advise all freshmen and sophomore nursing students, while continuing some duties with Minot State's New Student Orientation for the upcoming academic year.
Eleven current departments and services will be housed in the Center, including: academic advising, access services, career services, engagement honor roll, first-year experience and peer mentoring, new student programs, peer tutoring, Starfish, supplemental instruction, The Writing Center, and POWER.
POWER, funded by a TRIO-Student Support Service grant from the U.S. Department of Education, helps Americans who are low-income, first-generation college students, or have a documented disability, enter college, graduate, and move on to participate more fully in American's economic and social life. The Power Center, formally in the Student Center, will be housed at the ASC, but is governed by specific rules and regulations of the federal TRIO program and will remain distinct. Those requirements include retaining supervisor Holly Major and all POWER staff to insure the program remains a priority to the University. POWER and the Academic Support Center will coordinate logistics and services for students in the Center.
The Center will house 12 full-time Minot State employees and multiple student positions. The Writing Center, which currently is housed in the library, will continue to operate in the library as it becomes a part of the ASC.
A brief description of all the services offered at the Academic Support Center are below.
Academic Advising
The Academic Support Center provides advising services to undeclared, general studies, and pre-nursing students. The center also assists with general advising questions and prepares advising resources for the campus.
Access Services
Access Services promotes self-awareness, self-determination, and self-advocacy, while ensuring individuals with disabilities have the same access to programs, opportunities, and activities as all others. Students are assisted in making reasonable accommodations and/or adjustments to meet their individual needs.
Career Services
Career Services offers career guidance, cover letter and resumé assistance, resources in career exploration, employment opportunities, mock interviews, and goal planning.
Engagement Honor Roll
The Engagement Honor Roll is an opportunity for undergraduate students to receive recognition for the engagement activities they participate in through inclusion of this distinction on their transcripts.
First-Year Experience (FYE) and Peer Mentor Program
The First-Year Experience learning community is an opportunity for students to participate in a powerful learning experience that will assist with their transition to university life. This experience includes themed classes, peer mentors, and opportunities to engage with the campus and larger community. As part of the FYE, peer mentors connect students to resources, clubs, and other activities.
New Student Programs
New Student Programs are designed to provide students with information, resources, tools, and tips to help them and their family make a successful transition to university life. Programming for new students is comprised of New Student Orientation and Welcome Weekend. New students, along with their families, first participate in New Student Orientation. Welcome Weekend, the second part of new student programming, takes place the weekend prior to the start of fall and spring semesters.
Peer Tutoring
Our drop-in peer tutoring program seeks to empower students in their pursuit of becoming independent learners. Tutors assist students with study tips, tools, and resources to help them gain a better understanding of subject matter.
POWER Student Support Services
POWER is funded by a TRiO-Student Support Services grant from the U.S. DOE and helps Americans who are low-income, first-generation college students, or have a documented disability enter college, graduate, and move on to participate more fully in America's economic and social life. POWER is here to strengthen and inspire students as they embark on their higher education journey.
Starfish
Starfish is a communication tool which allows instructors to give praise or raise concerns regarding students' academic performance. Students are encouraged to seek assistance from appropriate campus/community resources. An online scheduling feature is also available in Starfish.
Supplemental Instruction (SI)
SI targets high-risk courses using peer assisted study sessions. These sessions encourage students to integrate course content and study skills while working together to master challenging classes.
The Writing Center
The best way to improve writing skills is through constructive feedback from engaged readers. Peer writing tutors can be those readers as they offer strategies to assist with any writing project, from help with content, organization, and focus to grammar, mechanics, and formatting.
About Minot State University
Minot State University is a public university dedicated to excellence in education, scholarship, and community engagement achieved through rigorous academic experiences, active learning environments, commitment to public service, and a vibrant campus life.
---