Minot State recognizes annual award winners
MINOT, N.D. – Minot State University held its annual Employee Recognition and Retirement program in May, recognizing award recipients and faculty and staff retirees. Awards presented included MSU Board of Regents Achievement Awards, Academic Advising Awards, High Five Awards, and Service Awards.
Faculty achievement awards were established in 1985 by the Burlington Northern Foundation. In 1990, the Minot State Board of Regents established a second award and now solely supports the awards to recognize outstanding university teaching. In 1991, the Board of Regents Staff Achievement Award was established.
Named Minot State Board of Regents Achievement Award winners were three faculty members, Leslee Thorpe for teaching, Micah Bloom for scholarship, and Tracey Mays for service, and three staff, Melissa Fettig, Rick Heit, and Gary Orluck, were named Minot State Board of Regents Achievement Award winners. 
Teaching: Leslee Thorpe
Thorpe is an instructor and early childhood program coordinator in the teacher education and kinesiology department. Originally from Mohall, she earned her master's degree in 1996 from Minot State. During her 40 years in education, Thorpe has worked in urban and rural school districts as a regular classroom and Title I teacher, literacy strategist, Reading First Coach, Early Literacy Coordinator, and Head Start literacy coach. She has worked at the University for five years in the areas of reading and early childhood education.
Scholarship: Micah Bloom
Bloom, associate professor in art, is completing his eighth year at Minot State and has been selected for numerous artist-in-residence fellowships. His paintings have been published in literary and art journals, and he has shown work nationally and internationally, including private galleries in China and the Shanghai Museum of Contemporary Art. His multi-media project with Minot's flooded books, "Codex," was exhibited throughout the U.S. and his book was recently received into the rare book collections at the Bodleian Library, University of Oxford. 
Service: Tracey Mays
Mays has been at Minot State for four years and currently serves as assistant professor of entrepreneurship. She started the entrepreneurship program at Minot State in 2017. In addition to nearly 10 years of experience as a university instructor, Mays has over 15 years of practical experience in leading and managing accounting, finance, and budgeting operations in the private and government sectors. She is a certified defense financial manager (CDFM) and is a certified entrepreneurship mindset profile (EMP)® practitioner. She is also a Lean Six Sigma yellow belt and has certificates in business performance management, entrepreneurship, and nonprofit management and a graduate certificate in entrepreneurship. Mays serves on various boards, including the Minot Public School Board as the vice-president of the MAFB School Board, St. Joseph's Community Foundation Board, and the Minot AFB Spouses Club board as the Parliamentarian. She also serves on several committees at Minot State.
Melissa Fettig
Fettig graduated from the Minot State nursing program in 2006 and received her master's degree in nursing with a concentration in education. She worked in public health for eight years prior to becoming the director of the Minot State Student Health Clinic and Counseling Services in 2015. The department's role is to align services to the mission and vision of Minot State through the provision of affordable, high-quality healthcare services to students. Fettig's goals for her and her team are to reduce absences from classes due to mental and physical health, make it easier for students to stay enrolled, and improve over-all academic success.
Gary Orluck
Orluck grew up on a farm near Makoti and graduated from North Shore High School in 1981 before receiving his bachelor's degree in criminal justice from Minot State in 1985. He was accepted into the North Dakota Highway Patrol in January 1986 and served in various locations in North Dakota until his retirement in November 2014 after attaining the rank of captain. Orluck also served as commander of the North Dakota Highway Patrol Canine Division from 2002-2014. He was awarded the Meritorious Service Award upon his retirement due to his leadership of the canine operation, the 2011 Minot flood, and the law enforcement challenges brought on by the oil boom in Western North Dakota. Orluck began his second career at Minot State in November 2014 as the director for the office of safety and security.
Rick Heit
Heit graduated from Minot State in 2008 with a bachelor's in broadcasting and professional communication: public relations and advertising with a minor in marketing. In August 2019, he will celebrate his 10th anniversary working in the Minot State marketing office. He serves as the University's photographer, videographer, and social media specialist, and is the staff advisor for the Minot State Gaming Club. Outside of work, Heit operates Rick Heit Photography, manages a YouTube channel with his children, and volunteers as the regional treasurer for his church.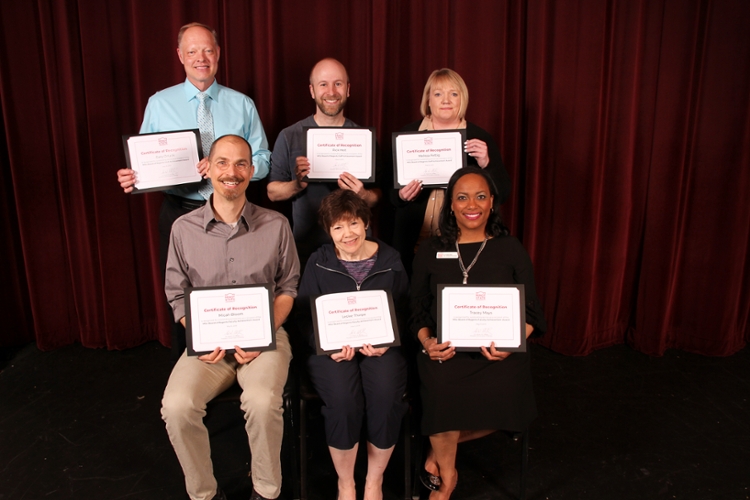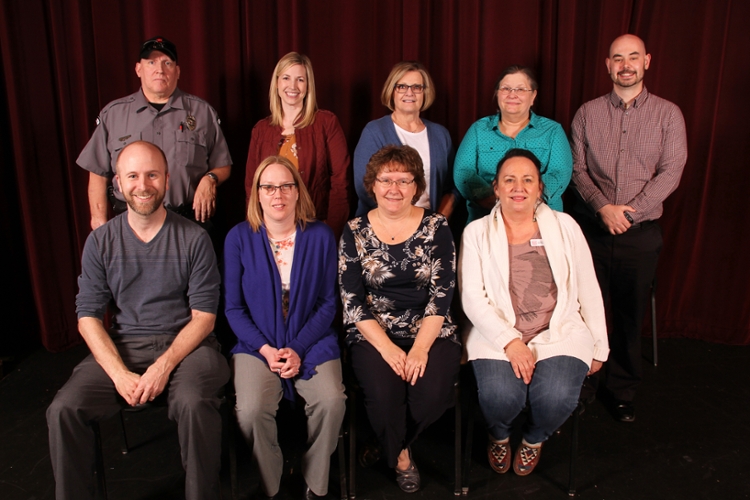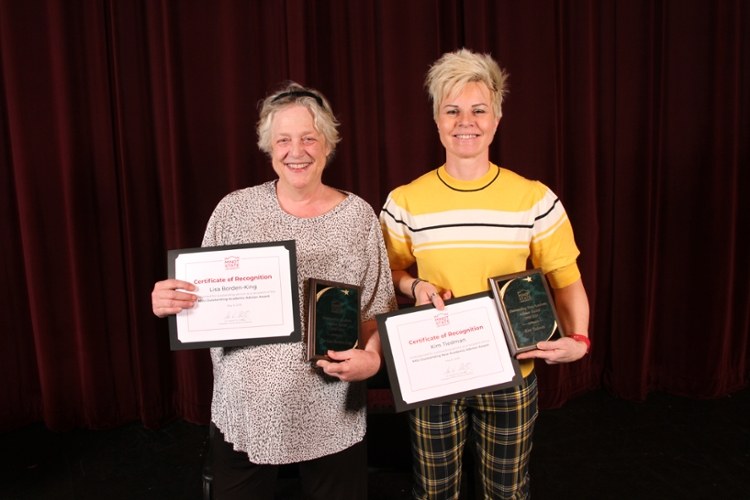 Minot State Staff Senate created the High-Five Award in January 2017. The award recognizes staff who have served the University in an exceptional manner by exemplifying outstanding service through his or her work and exhibiting a positive and supportive attitude. Earning the award April 2018 to March 2019 were Terry Wald, Jennifer Malachowski, Rick Heit, Gary Huwe, Melissa Cantone, Tricia Houmann, Brenda Munson, Annette Mennem, Cindy Geyer, Tammy Wolf, Doreen Wald, and Sean Griffin.
The Outstanding Academic Advising Award for 2018-19 was awarded to Kim Tiedman, department of nursing, and Lisa Borden-King, department of teacher education and kinesiology.
Minot State retirees included Judith Bacon, Donald Burke, Randy Hartley, Debra Jensen, Terrance Kiser, William Mosser, Harold Nelson, Rebecca Petrik, Sharon Reynolds, and Kristen Warmoth.
During the Employee Recognition and Retirement program, Minot State recognized 55 individuals for their five-year increments of service.
Individuals with five years of service included Jessica Aga, Amanda Allard, Dianna Anderson, Kylie Erickson, Gary Huwe, Kimberly Johnson, Terrance Kiser, Kristie Lawson, Aundrey Livingston, Heidi Okenson, Katherine Phillips, Troy Roness, Angela Shaw, Karina Stander, Elizabeth Sund, Tricia Tessendorf, Kimberly Vosseteig, and ZoeAnn Winkler.
Those acknowledged for 10 years of service were Lori Braasch, Carla Davis, Kevin Harmon, Tricia Houmann, Korie Huettl, Connie Irey, Kathryn Kilroy, Brenda Munson, Heidi Peterson, Rebecca Petrik, Bryan Schmidt, Aili Smith, and Roger Triplett.
Erik Anderson, Amy Armstrong, Corey Ell, Chad Fenner, Patti Kurtz, and Melissa Spelchen received accolades for 15 years of service while Dianne Bossert, Penny Brandt, Neil Fulton, Toni Schwartz-Johnson, Jerry Stai, Kristen Warmoth, and Jolynn Webster were recognized for their 20 years at Minot State.
Individuals with 25 years of service included Thomas Eisenzimmer, Eric Furuseth, Gary Rabe, Neil Roberts, and Tammy Wolf.
Rhonda Holden and Renae Yale hit the 30-year mark, while Lynda Bertsch and Donna Weishaar celebrated 35 years of employment at Minot State. Linda Pettersen was recognized for 40 years of service and Harold Nelson for 50 years.
About Minot State University
Minot State University is a public university dedicated to excellence in education, scholarship, and community engagement achieved through rigorous academic experiences, active learning environments, commitment to public service, and a vibrant campus life.
---