Alumni Association partners with Publishing Concepts, Inc. to produce directory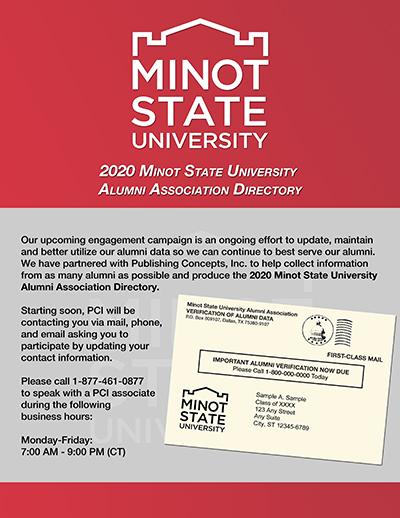 MINOT, N.D. – The Minot State University Alumni Association has partnered with Publishing Concepts, Inc. (PCI), to produce the 2020 Minot State University Alumni Association Directory.
The directory will be an ongoing engagement campaign to update, maintain, and better utilize the University's data to continue to best serve alumni throughout the world.
"The directory is just the first step in gathering all the information we need to better serve our proud alumni base," said Janna McKechnie, director of alumni and annual giving. "We hope to reach as many alumni as possible to get the most current information we can over the next year and then continue to maintain that database as we go forward."
An industry-leading directory company located in Dallas, Texas, PCI utilizes technology, expertise, best practices, and proven products and services to help colleges, universities, independent schools, fraternities, sororities, and associations of all types drive engagement and maximize contributions.
PCI will begin the process of contacting alumni via mail, phone, and email asking individuals to participate by updating their contact information. Alumni members can also contact a PCI associate during business hours (7 a.m. to 9 p.m. Central time) at 1-877-461-0877 to update their information.
About Minot State University
Minot State University is a public university dedicated to excellence in education, scholarship, and community engagement achieved through rigorous academic experiences, active learning environments, commitment to public service, and a vibrant campus life.
---