Senior Spotlight 19: Mark Fulbright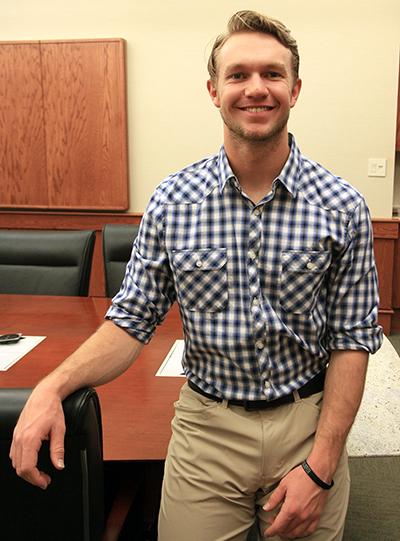 "My favorite part of Minot State is having the opportunity to be involved in separate and different subsects of people. From the moment I walked in, I had the baseball team. It was pretty much a family given to me right away. The people I met through the College of Business are completely different from the people I took math classes with, which are completely different from the people in my honors classes."
Mark Fulbright, energy economics and finance major, math minor, and honors concentration
MINOT, N.D. – When Mark Fulbright started school at Minot State University, he didn't know anyone in the community.
It's a good thing the Sierra Vista, Arizona native enjoys meeting new people.
"My favorite part of Minot State is having the opportunity to be involved in separate and different subsects of people," the senior said. "From the moment I walked in, I had the baseball team. It was pretty much a family given to me right away. The people I met through the College of Business are completely different from the people I took math classes with, which are completely different from the people in my honors classes."
Baseball and academic opportunities drew Fulbright to Minot. After selecting his university of choice, it was time to narrow down his degree.
"I thought I was probably going to major in math or computer science," Fulbright said. "Then after I made the decision on Minot State, I was looking closer at some of the degrees and energy economics stood out as a unique, region-specific major. It was really interesting to me and I figured it was something I couldn't get anywhere else."
Fulbright, an energy economics and finance major, math minor, and honors concentration student, has made the most of his four-year career on campus, from spending time on the mound as the Beavers' pitcher, to participating in intramural volleyball and bowling, to serving as a director of entertainment for MSU Life.
"Athletics has always been a huge part of my life," Fulbright said.
Academic excellence is also a capstone for the senior. He received numerous scholarships while at Minot State and most recently received a Student Leadership & Engagement Award, an honor that recognizes students based on their academic achievement, service to Minot State and the greater community, participation and leadership in academic and extracurricular activities, and potential for continued success.
That continued success is something Fulbright intends to capitalize on immediately following graduation.
He will walk across the stage during commencement on May 10 knowing he already has a job secured in his area of study, and, on May 28, he will walk into his new job at Minnkota Power Cooperative in Grand Forks, much the same as he showed up to Minot State: without knowing anyone in the community.
It's a good thing the Sierra Vista, Arizona native enjoys meeting new people.
About Minot State University
Minot State University is a public university dedicated to excellence in education, scholarship, and community engagement achieved through rigorous academic experiences, active learning environments, commitment to public service, and a vibrant campus life.
---