Senior Spotlight 19: Fanny Grimstad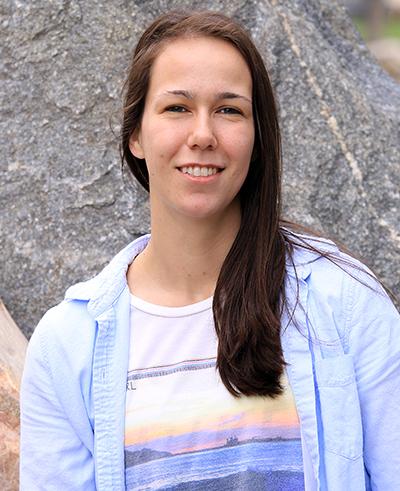 "I love the closeness of all the people, like you know everyone on campus. You become super tightknit, even with professors. You know all your professors and they know you."
Vanessa "Fanny" Grimstad, communication disorders
MINOT, N.D. – When Vanessa "Fanny" Grimstad was around one year old, her parents began fostering children from the Regina, Saskatchewan area.
"My family fosters and adopts, so we have a lot of services come to the house and speech path is one that pretty much every kid gets," said the communication disorders graduate.
Although she grew up with professionals in her eventual major, Grimstad didn't immediately have that career path in mind. Following high school graduation, she first went to school for nutrition and then switched to journalism.
The White City, Saskatchewan native eventually found herself at Minot State after her older sister researched the University's communication disorders program and her mom encouraged Grimstad to give the institution a try.
"I didn't really have any other plans, and I was like, 'If anything, I'll be at university and I can figure it out from there. I can get my generals done,'" she said. "But as soon as we started getting into the program — the deeper I got into it, the more I loved it, so I knew that it was the right decision."
While Grimstad's path to communication disorders wasn't straightforward, her desire to continue playing hockey once arriving in the Magic City was absolute.
"I've had a lot of fun playing hockey," said the student-athlete. "This is a pretty broad statement but literally watching the program grow and being a part of it for the last four years has been one of the most amazing things in my life."
Grimstad's college hockey career may now be over, but she will be returning to Minot State for the Fall 2019 semester, this time to begin her Master of Science degree in communication disorders: speech-language pathology.
"I love the closeness of all the people, like you know everyone on campus," she said. "You become super tightknit, even with professors. You know all your professors and they know you."
As for her future career, Grimstad attributes her large family for pointing the way. Her parents continue to foster and have adopted several children over the years.
"It's definitely contributed to who I am right now, being able to help people is amazing. I've grown up with that, it's just the thing to do," she said. "It's always been demonstrated by my parents and our whole support system. We knew about (communication disorders) because of that, so it's directly because of that. But it's also indirect because of the person it's made me."
About Minot State University
Minot State University is a public university dedicated to excellence in education, scholarship, and community engagement achieved through rigorous academic experiences, active learning environments, commitment to public service, and a vibrant campus life.
---