Davis, Roberts earn Sevareid Awards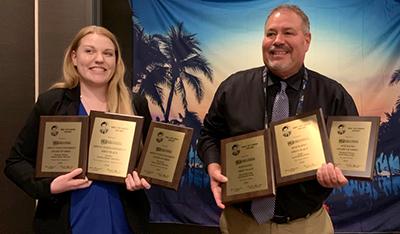 MINOT, N.D. – Minot State University broadcasting and professional communication students attended the 2019 Midwest Broadcast Journalism Association conference and award ceremony at the Crowne Plaza Aire April 12-13 in Bloomington, Minnesota.
Two Minot State individuals, Davis, and associate professor Neil Roberts, each earned three Eric Sevareid Awards for their work during the year. The awards are named for the North Dakota-born journalist who is best known for his work as a correspondent for CBS Radio and Television. Each year, the Midwest Broadcast Journalists Association presents awards to broadcast news operations and journalists working in small, medium, and large markets in our six-state region on radio, television, and online.
Davis earned first place in Weather (TV only) category for her work on "Winter Weather Advisory — Weather Forecast." She earned Awards of Merit in Broadcast Writing for "Winter Words: Thunderstorms," and Soft Feature for "Peanuts Harvested in North Dakota."
Roberts was honored with first place awards in Sports Reporting and Audio for his piece titled "New Age Ice Fishing." He also earned an Award of Merit in Broadcast Writing for "New Age Ice Fishing."
Joining Davis at the Midwest Broadcast Journalism Association conference were students Kyle Ludwig, from Minot, and Taylor Rizzari, from Winchester, Virginia.
The Midwest Broadcast Journalists Association holds its annual convention, business meeting and awards ceremony each spring. The two-day convention includes professional training, recognition of outstanding work, and networking.
About Minot State University
Minot State University is a public university dedicated to excellence in education, scholarship, and community engagement achieved through rigorous academic experiences, active learning environments, commitment to public service, and a vibrant campus life.
---