Minot State welcomes Elizabeth Smart as first Presidential Speaker Series guest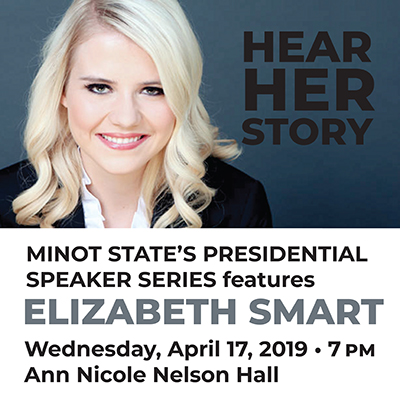 MINOT, N.D. – The first Minot State University Presidential Speaker Series guest Elizabeth Smart will come to Minot State's Ann Nicole Nelson Hall on Wednesday, April 17. The presentation is set to begin at 7 p.m. with doors opening at 6 p.m.
The Minot State University Presidential Speaker Series is being launched at MSU to bring in high-profile thought leaders to the Minot State campus to share their experiences and expertise.
Smart is the survivor of one of the most followed child abduction cases in the United States. She was abducted on June 5, 2002, from her home at the age of 14. Her captors controlled her by threatening to kill her and her family if she tried to escape. Smart was held for nine months before being rescued.
Through this experience, she has become an advocate for change related to child abduction recovery programs and for national legislation. Smart testified before her captor and the world about the nightmare she suffered during her abduction, leading to a conviction. She is the founder of the "Elizabeth Smart Foundation," and helped promote the National AMBER Alert, the Adam Walsh Child Protection & Safety Act, and other safety legislation to help prevent abductions.
Smart is the author of two books, the New York Times best-selling book, "My Story," and has recently released a new powerful and inspiring book about what it takes to overcome trauma, find the strength to move on, and reclaim one's life, titled "Where There's Hope."
The Minot State Presidential Speaker Series featuring Elizabeth Smart is free and open to the public, but has limited space available and tickets are required for entrance. Tickets can be ordered by emailing the Minot State University Humanities department HERE or by calling 701-858-4240. Leave full name, address, telephone number, email address, and the specific number of tickets wanted with each order. Please note, postcards will be sent out with the number of people to be admitted on each card. There will be one postcard for one person if ordered singly, or, in the case of a group order, one postcard for multiple individuals. Minot State students will get a one-admitted card. With voicemail orders, speak slowly and clearly in order to get name, address, phone number, email address, and number of tickets needed.
About Minot State University
Minot State University is a public university dedicated to excellence in education, scholarship, and community engagement achieved through rigorous academic experiences, active learning environments, commitment to public service, and a vibrant campus life.
---