Minot State Giving Day set for April 10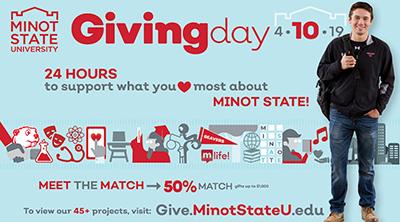 MINOT, N.D. – The Minot State University Development Foundation proudly presents the University's second Giving Day April 10.
Minot State Giving Day is a 24-hour, online day of giving back to the university. The goal is simple: to inspire people everywhere to come together, demonstrate pride for Minot State by making a gift of any size while providing essential resources for generations of MSU students.
"We are excited to announce our second Giving Day," said Minot State Development Foundation Executive Director Rick Hedberg. "This is an excellent opportunity for individuals to give to Minot State, to the program or department of their choice, in any dollar amount, making an impact on student lives. Together we can make a big difference in a short amount of time."
This year, the Minot State University Development Foundation will match 50 percent of each donation thanks to a pool of $50,000 in matching funds. The Minot State Alumni Association and the Social Science Student Workspace projects are offering 100 percent match on gifts made to those specific projects in addition to the 50 percent match.
Giving Day will start at midnight, April 10, and run until 11:59 p.m. (CDT). Gifts can be made to support the university's greatest priorities and opportunities, including scholarships, or can be made in support of a specific college or program.
Log on to the MSU Giving Day WEBSITE for more information on the event and information on the 50 projects listed. Donors interested in giving to other projects can donate to a special "Have another passion?" project and a designation of their choice can be entered.
The MSU Development Foundation is encouraging both participation and engagement from donors leading up to and during the MSU Giving Day. Special MSU Giving Day profile photos and social media banners have been made for Facebook and Instagram and are available for DOWNLOAD.  The hashtag #MSUGivingDay is also encouraged for social media posts.
On MSU Giving Day, the Development Foundation is also sponsoring two events on campus. There will be free donuts in the Student Center Atrium from 9:15-10:15 a.m. and free popcorn in Old Main, first floor from 2:45-3:45 p.m.
Each gift is tax deductible and official gift receipts for tax purposes will be mailed.
For more information, contact MSU Donor Relations Coordinator Kate Marshall by EMAIL or by phone at (701) 858-4158.
About Minot State University
Minot State University is a public university dedicated to excellence in education, scholarship, and community engagement achieved through rigorous academic experiences, active learning environments, commitment to public service, and a vibrant campus life.
---