MSU Development Foundation announces four major gifts to Dome seating project
MINOT, N.D. – The Minot State University Development Foundation announced four major gifts as a part of ongoing fundraising for the seating project and renovation of the Minot State Dome.
Minot State and the MSU Development Foundation honored First International Back & Trust, SCHEELS, First Western Bank & Trust, and Ryan Family Dealerships at the University's Alumni, Booster, and Fan Appreciation Night Feb. 1.
"These four area companies — First International Bank & Trust, SCHEELS, First Western Bank & Trust, and Ryan Family Dealerships — have been key partners with Minot State University, Minot State Athletics, the city of Minot, and Northwest North Dakota," said Minot State Development Foundation Executive Director Rick Hedberg. "They are all great community partners. This project would not be realized without their support!"
The renovation will help the facility maintain its status as one of the top venues in the Upper Midwest. The seating project will also help ensure the community of Minot stays in the rotation for regional and state tournaments and will provide a boost to the Minot State Athletic Department's recruiting efforts.
The MSU Development Foundation continues to raise money for the project, scheduled to start in early June, including a buy-a-seat program. Benefits of the program include donors name on the seat for five years, reserved seating for Minot State home events, and the donor's name on a plaque to be displayed at the venue.
For information on the buy-a-seat program, contact development officer Jeremy Feller by EMAIL or by phone at (701) 858-3177 or (800) 777-0750, ext. 3177.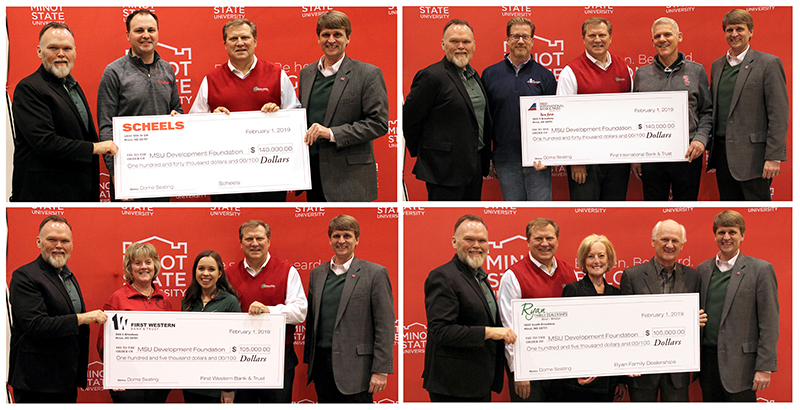 About Minot State University
Minot State University is a public university dedicated to excellence in education, scholarship, and community engagement achieved through rigorous academic experiences, active learning environments, commitment to public service, and a vibrant campus life.
---