Celebrate the 2019 ACHA DI champion Beavers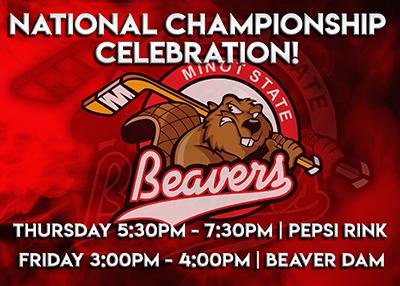 MINOT, N.D. – The Minot State University men's hockey will celebrate its 2019 ACHA DI Championship with two events planned for Thursday, March 28 and Friday, March 29.
Thursday's celebration is at the Maysa Arena from 5:30-7:30 p.m. There will be a short program on the ice with a light show and announcements in the Pepsi Rink. From there, the event will be going to the east parking lot of the Maysa Arena to tailgate with brats, hot dogs, chips, and drinks. There will be music, kids' activities, and fun!
On Friday, there will be a short welcome back reception from 3-4 p.m. at the Beaver Dam with cake and coffee. The whole team will be there and there will be a short program with president Steven Shirley, head coach Wade Regier, and Beavers team captain Blake Fournier, along with a highlight video.
For more information, see attached FLIER.
About Minot State University
Minot State University is a public university dedicated to excellence in education, scholarship, and community engagement achieved through rigorous academic experiences, active learning environments, commitment to public service, and a vibrant campus life.
---