Minot State University to host Winter Parent & Family Weekend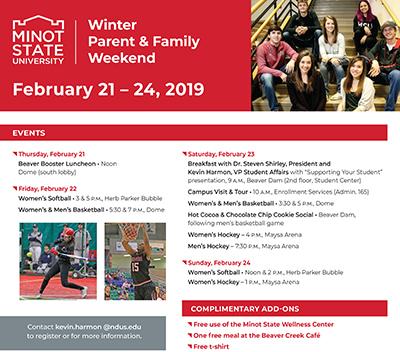 MINOT, N.D. – Minot State University is hosting its Winter Parent & Family Weekend Thursday, Feb. 21 to Sunday, Feb. 24.
"Our Winter Parent & Family weekend features opportunities for families and students to spend time together and connect with Minot State University through scheduled events and on their own," Kevin Harmon, vice president for student affairs, said.
The weekend begins with a Beaver Booster Luncheon at noon on Thursday, Feb. 21.  On Friday, Feb. 22, women's softball will play the University of Mary at 3 p.m., followed by a game against Minnesota State University Moorhead at 5 p.m. at the Herb Parker Air Supported Dome. Beaver basketball kicks off at 5:30 p.m. when the women take on Minnesota State University Moorhead at the Minot State Dome. The men's team is slated to be on the court at 7:30 p.m. Across campus, the Minot State band will perform at Ann Nicole Nelson Hall at 7:30 p.m.
On Saturday, Feb. 23 a full day of events is scheduled, starting with a 9 a.m. breakfast with Minot State President Steven Shirley and Harmon and a presentation titled, "Supporting Your Student." A campus visit and tour, men's and women's basketball, a hot cocoa and chocolate chip cookie social, and women's and men's hockey will round out the day. Basketball at the Dome will begin at 3:30 p.m. The puck drops at 4 p.m. for women's hockey and again at 7:30 p.m. for the men at the Maysa Arena. The weekend concludes with women's softball at noon and 2 p.m. and women's hockey at 1 p.m. on Sunday, Feb. 24.
In addition to the wide range of events offered, the Winter Parent & Family weekend also offers some complimentary add-ons, including free use of the Minot State Wellness Center, one free meal at the Beaver Creek Café, and a T-shirt. The Wellness Center offers a variety of activities including racquetball courts, classes, and a 35 foot rock wall.
For more information, or to register, contact Harmon HERE.
About Minot State University
Minot State University is a public university dedicated to excellence in education, scholarship, and community engagement achieved through rigorous academic experiences, active learning environments, commitment to public service, and a vibrant campus life.
---