Western Plains Opera presents 'Into the Woods' at Ann Nicole nelson Hall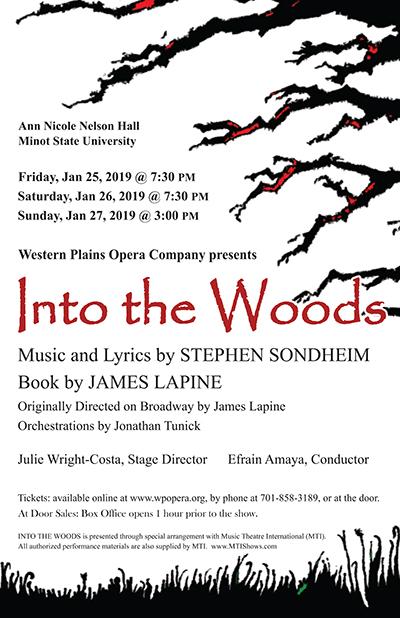 MINOT, N.D. – The Western Plains Opera Company will showcase Minot State University and local talent during this weekend's production of "Into the Woods," a musical by Stephen Sondheim based off James Lapine's book, at Minot State's Ann Nicole Nelson Hall.
"For this particular show, we wanted to make sure we had regional, local talent," said DeVera Bowles, "Into the Woods" producer and Minot State voice professor. "The Opera Company, as part of its mission, is keeping the art form alive and encouraging younger audiences. This show is perfect because it brings in characters that are familiar, not just to the kids, but to their parents."
"Into the Woods" weaves the stories of several fairy tales together, including "Little Red Riding Hood," "Jack and the Beanstalk," "Rapunzel," and "Cinderella." The award-winning musical debuted in 1986 before its Broadway premier in 1987 and has been produced many times, including a national tour, West End production, London revival, and Disney film adaption.
"It's like a tapestry," Efrain Amaya, "Into the Woods" symphony maestro and Minot State assistant professor of music, said of the production. "Everything is so intricate. The characters flow. The main characters intertwine."
While most opera productions showcase three or four main characters, this show features over a dozen, including Maren Coffin as Cinderella, Kaylee Capp as the witch, Nathan Bowles as the baker, and Claire Romich as the baker's wife. Every character has a wish they want granted, but every wish — and action — has consequences.
"It really moves like a kaleidoscope of energy," Bowles said. "And in this show, the things the characters are saying are important."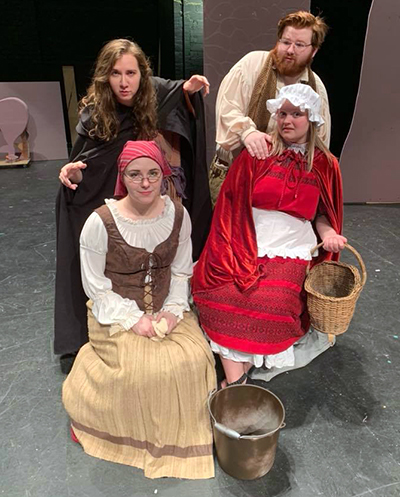 "Into the Woods" will be performed Friday, Jan. 25 at 7:30 p.m., Saturday, Jan. 26 at 7:30 p.m., and Sunday, Jan. 27 at 3 p.m. at Ann Nicole Nelson Hall. Tickets are available at wpopera.org, by phone at 701-858-3191, or at the door. The box office opens one hour prior to the show. Prices range from $25 for premium seating to $10 for Minot State students and children 18 years old and under.
About Minot State University
Minot State University is a public university dedicated to excellence in education, scholarship, and community engagement achieved through rigorous academic experiences, active learning environments, commitment to public service, and a vibrant campus life.
---