Minot State event to help students stand out, connect with community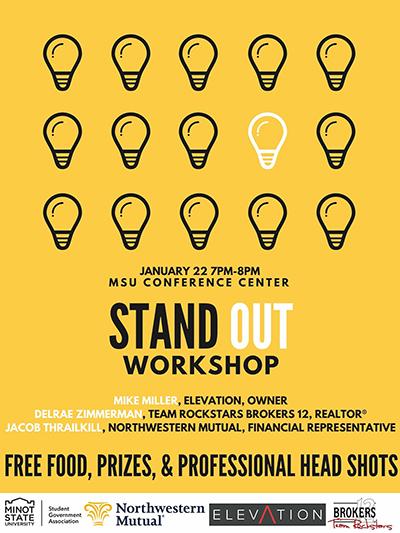 MINOT, N.D. –Minot State University's Student Government Association (SGA) will be hosting their first Stand Out Workshop on Jan. 22 from 7 – 8 p.m. The event is a collaboration with community members and is unique to Minot State. 
"I saw a need for the community and students to engage more with each other, and the Stand Out Workshop will hopefully be the first of many student-oriented workshops that will be hosted by SGA to address this need in the community," Richard said.
The night will feature TEDx-themed talks by community members, as well as a discussion panel, networking social, and free food, prizes, and professional head shots.
"Students will have the chance to interact and engage with workshop presenters Mike Miller, DelRae Zimmerman, and Jacob Thrailkill in a Q&A session to learn more about topics that interest them," Richard said. "The goal of this event is to allow students to begin to think about how to make themselves stand out both on campus and after graduation."
Miller owns Elevation, a restaurant located in the Minot Country Club. Zimmerman is a realtor at Team Rockstars Brokers 12, and Thrailkill is a financial representative at Northwestern Mutual. 
"They will talk about how they are able to Stand Out in the professional fields, and, for DelRae & Jacob, how their education at Minot State prepared them for the future," Richard said. "Students can also expect to learn some fun life hacks, tips about real estate, and tips on self-promotion along the way."
This event is free to Minot State University students and will take place in the Beaver Dam on the second floor of the Student Center. For more information, visit the Minot State University Student Government Association Facebook PAGE.
About Minot State University
Minot State University is a public university dedicated to excellence in education, scholarship, and community engagement achieved through rigorous academic experiences, active learning environments, commitment to public service, and a vibrant campus life.
---