Alumni Association plans annual Arizona trip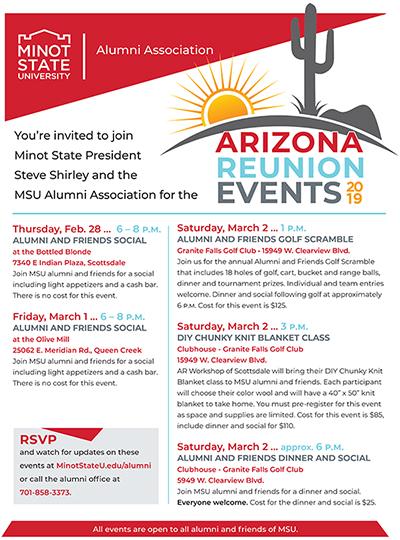 MINOT, N.D. – Minot State University, along with the Minot State Alumni Association, will again make its annual spring trip to Arizona, with five events planned over three days for its Arizona Reunion Events 2019.
All events are open to all Minot State alumni and friends of MSU. Please RSVP and watch for updates at MinotStateU.edu/alumni, or call the alumni office at 701-858-3373.
"Minot State University President Steve Shirley, the Alumni Association, and I welcome all MSU Alumni and friends to our annual event in Arizona," said Janna McKechnie, Minot State director of alumni and annual giving. "The annual trip to Phoenix is one of our best events, connecting multiple alumni together for three fun-filled days."
The trip will begin in Scottsdale, Ariz., on Thursday, Feb. 28 with an Alumni and Friends Social scheduled for 6-8 p.m. (all times listed are Mountain Standard Time) at the Bottled Blonde. Join MSU alumni and friends for a social including light appetizers and a cash bar. This event is free.
Friday, March 1 will also feature an alumni social, this time at the Olive Mill in Queen Creek, Ariz., from 6-8 p.m. Light appetizers and a cash bar are available and this event is also free.
The Arizona Reunion Events 2019 shifts to the golf course on Saturday, March 2, with tee off set for 1 p.m. The first event will be the annual Alumni and Friends Golf Scramble at the Granite Falls Golf Club in Surprise, Ariz. The cost is $125 per person and includes 18 holes of golf, cart, bucket and range balls, dinner, and tournament prizes. Individual and team entries are welcome. Individuals playing the tournament will also receive dinner during the final social following golf at approximately 6 p.m.
If golf isn't your game, there will be a DIY Chunky Knit Blanket Class offered at the Clubhouse at Granite Falls Golf Club starting at 3 p.m. AR Workshop of Scottsdale will bring their DIY class to the event. Each participant can choose their color of wool and make a 40x50 inch knot blanket to take home. Pre-registration is required for this event as space and supplies are limited. The cost of this event is $85 or $110 including the dinner and social.
The final event of the weekend is the Alumni and Friends Dinner and Social at the Clubhouse at Granite Falls starting at approximately 6 p.m. Cost for the dinner and social is $25 per person. Special rates are listed above if individuals have either played in the golf scramble or the DIY event.
About Minot State University
Minot State University is a public university dedicated to excellence in education, scholarship, and community engagement achieved through rigorous academic experiences, active learning environments, commitment to public service, and a vibrant campus life.
---