Minot State Development Foundation receives Edson & Margaret Larson Foundation grant to support Veterans Entrepreneurship Training Program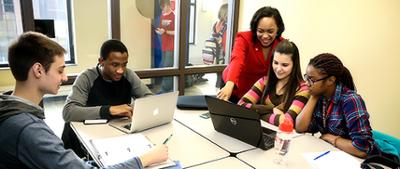 MINOT, N.D. – The Minot State University Development Foundation, in partnership with Minot State's College of Business, announced the University has received an Edson & Margaret Larson Foundation grant.
The grant will support the start of the Minot State University Veterans Entrepreneurship Training (VET) Program. Minot State entrepreneurship students working in this program will assist veterans (or veteran spouses) who are interested in starting their own business.
"The VET Program is my brain child," said Minot State assistant professor of entrepreneurship and management Tracey Mays. "In developing the entrepreneurship program, I wanted to give students the opportunity to provide service to the community using the theories they learned in the classroom. This will be one of their possible portfolio experiences to demonstrate to themselves and future employers they have applied skills learned in the classroom to real-world businesses. I am always looking to give them opportunities for hands-on learning."
Approximately 25 percent of transitioning veterans are interested in running their own business according to research conducted by Bunker labs. The VET Program is designed to help veterans and others start businesses in the local Minot community, which invigorates the local economy though job creation and the development of a local entrepreneurial ecosystem. As a neighbor and friend of the Minot Air Force Base, it is essential the Minot community continues to support our veterans.
"I have a special place in my heart for veterans," Mays said. "My father was a retired Army veteran and my husband is a veteran, serving in the Air Force. Chuck Barney, director of the Severson Entrepreneurship Academy, helps with the Boots to Business program at Minot AFB and has found many vets that are interested in starting their own business upon separation or retirement. I thought there is a need there and our students can apply skills learned in the entrepreneurship program to help the vets start or grow their businesses."
The VET program will begin with veterans and veterans' spouses as clients, but will extend to a broader program for anyone in the Minot community that needs business start-up and entrepreneurship consultation. Prospective and current small business owners will be able to seek analysis and consultation from entrepreneurship students who are supervised by Minot State faculty and staff.
It also affords students an opportunity to use what they have learned in the classroom to deliver value to a real business client. This program will give students the opportunity to develop their entrepreneurial portfolio and practice much needed leadership and management skills. The student will practice this by helping veterans start a new venture or by helping young start-ups become more successful by using the entrepreneurial skills acquired through theory and coursework. The student will offer the veterans interesting insights from using their knowledge of theory as well as provide them advice from their unique perspectives, using creativity and energy to put their skills to work to help the veteran's business. This experience will provide students with relevant work experience that is transferable in a job setting and it will also help teach them goal setting, consulting, project management, leadership, problem-solving, communication and analytical skills.
In addition, the Edson & Margaret Larson Foundation grant will allow for the creation of a resource library. This resource library will give students resources and reading materials necessary to help them better consult the clients, such as books on sources of funding for veterans and small businesses. The funds would also be used to purchase hardware and software to develop business plans, projected financial statements and sample marketing materials for clients, allow for the development and delivery of student lead workshops on entrepreneurship topics, and provide marketing materials to help attain potential program participants. It will also provide students scholarships for participation in the program. 
ABOUT THE EDSON & MARGARET LARSON FOUNDATION
The Edson & Margaret Larson Foundation was established through the estate of Edson Larson, who arranged to have his estate used for a number of charitable purposes, including the establishment of scholarships for North Dakota students.
About Minot State University
Minot State University is a public university dedicated to excellence in education, scholarship, and community engagement achieved through rigorous academic experiences, active learning environments, commitment to public service, and a vibrant campus life.
---