Special education programs receive approval, sign Memorandum of Understanding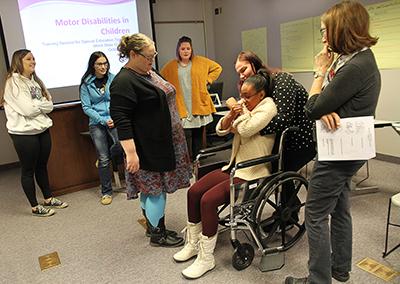 "Receiving state program approval is essential for our graduates to become licensed special education teachers in North Dakota. We strive to offer high-quality programs that prepare teachers to meet the needs of learners with disabilities, and this approval is verification of that continuous work."
Holly Pedersen, associate professor and chair for Minot State's department of special education
MINOT, N.D. – Minot State University's special education (SPED) programs recently received final approval from the North Dakota Education Standards and Practices Board (ND ESPB), and also signed their second five-year Memorandum of Understanding (MOU) with the Michigan Department of Education for National Deaf Education Consortium.
"Receiving state program approval is essential for our graduates to become licensed special education teachers in North Dakota. We strive to offer high-quality programs that prepare teachers to meet the needs of learners with disabilities, and this approval is verification of that continuous work," said Holly Pedersen, associate professor and chair for Minot State's department of special education.
The ND ESPB is an independent board that continually reviews North Dakota standards and procedures pertaining to licensure and teacher education programs, and approved Minot State's Bachelor of Science in Education (BSEd) with a major in Special Education and Master of Science (MS) in Special Education. State program approval from the ND ESPB is a required component in the process of national accreditation from the Council for the Accreditation of Educator Preparation (CAEP).
The Michigan Department of Education MOU establishes continued collaboration with Minot State University to deliver online coursework that will permit certified teachers in Michigan to qualify for an additional Michigan teaching endorsement in Deaf and Hard of Hearing (DHH).
"MSU's deaf education program has a 55-year tradition of excellence. We are looking forward to our continued partnership with the state of Michigan to support their efforts to provide qualified teachers in this critical shortage area," said Pedersen.
About Minot State University
Minot State University is a public university dedicated to excellence in education, scholarship, and community engagement achieved through rigorous academic experiences, active learning environments, commitment to public service, and a vibrant campus life.
---