Explorations of time and place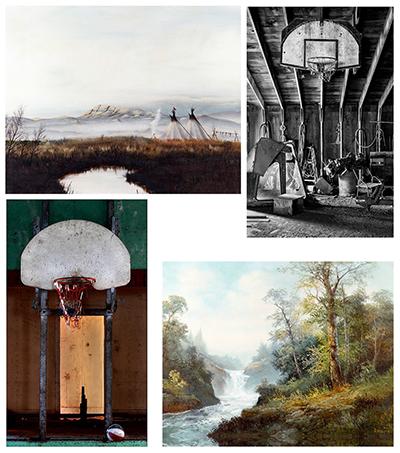 MINOT, N.D. – The Northwest Arts Center at Minot State University features exhibitions by two North Dakota artists that explore the world and our place within it. On display Dec. 3-21,  the works of oil painter Steve Holmes and photographer Dan Smith portray distinct views of nature and memories of the past. A public reception with the artists is scheduled for Friday, Dec. 7 from 6:30-8 p.m.
Dan Smith, of Nanson, N.D., photographing professionally since 1972, presents "HOOPS," an exhibition of fine photographs. The project started with a single image; the shadow of a basketball standard on an empty prison yard, and developed into a journey through barns, garages, yards and fields. Smith describes these trips as visits "to a world of aspiration and hope, of youthful dreams and bitter failure." Through his lens, he searches for meaning in spaces that personify reminders of past friendships, dreams, hopes and daily life.
Steve Holmes, of Garrison, N.D., grew up in Maine, Massachusetts and Connecticut. A self-taught oil painter with no formal training, Holmes draws inspiration from his own personal and family history, as well as the natural world and the wildlife that resides within it. An avid outdoorsman, he spends much time in nature studying his painting subjects. Holmes became intrigued with the concept of movement in his art while hunting, and has since explored the "impression" of motion, as opposed his start with traditional "stop action" wildlife portrayal.
The exhibits and reception are free and open to the public. The Northwest Arts Center is in the lower level of the Gordon B. Olson Library. Visitor en-trance and parking are on the south side of the library. Gallery hours are 9 a.m. to 4 p.m., Monday through Friday. A visitor parking pass is available at the gallery office. Parking in campus lots is unrestricted after 5 p.m.
This program is funded in part by a grant from the North Dakota Council on the Arts, which receives funding from the North Dakota state legislature and the National Endowment for the Arts.
About Minot State University
Minot State University is a public university dedicated to excellence in education, scholarship, and community engagement achieved through rigorous academic experiences, active learning environments, commitment to public service, and a vibrant campus life.
---