Minot State hosts 40th annual Northwest Festival of Music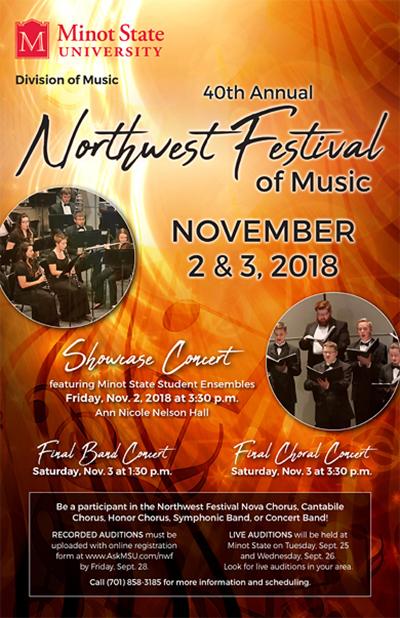 MINOT, N.D. – As the calendar flips to November, high school and middle school students will once again flock to the Minot State campus. The MSU Division of Music presents the 40th Annual Northwest Festival of Music on Nov. 2 and 3.
The event brings students together from across the region, giving them the opportunity to work in large group and small sectional music rehearsals and attend an afternoon concert showcasing various Minot State University student ensembles. The festival culminates with two concerts — band and choral — that features a total of five ensembles.
The Minot State Showcase Concert will be held at 3:30 p.m. on Friday, Nov. 2 at Ann Nicole Nelson Hall and highlights a variety of musical experiences.
"Charlie Young's Jazz Band will knock your socks off. The Concert Band, under the direction of Dr. David Rolandson, is a vast and impressive sound. Also, the MSU Concert Choir will sing a smattering of their repertoire for their upcoming Veterans Memorial and Fundraising concert on Nov. 9," Emerson Eads, Minot State director of choral activities, said.
Students participating in the festival were chosen through an audition process that included submitting various audio performance files. Due to a high influx of submissions, results were delayed this year — a wonderful "problem" to have, according to Eads.
The Northwest Festival Band concert will be held at 1:30 p.m. on Saturday, Nov. 3, and features the Symphonic Band and Concert Band. At 3:30 p.m., the Northwest Festival Choir concert will begin, featuring the Honor Chorus, Cantabile Chorus, and Nova Chorus. Both concerts will be held at Ann Nicole Nelson Hall. Admission is $5 for one concert or $8 for both. Music teachers can attend for free with a name badge.
Although new to Minot State, Eads is aware that the festival is the oldest university-sponsored festival in the state. 
"I'm just trying to get to know the traditions," Eads said. "It is a tribute to my predecessors, and especially Dr. Ken Bowles (previous music professor at Minot State), that this festival continues to thrive and inspire students from all over the state. At the end of the day, to inspire these talented and passionate students is my hope for this festival."
About Minot State University
Minot State University is a public university dedicated to excellence in education, scholarship, and community engagement achieved through rigorous academic experiences, active learning environments, commitment to public service, and a vibrant campus life.
---