Minot State adds Medicinal Plant Chemistry to chemistry options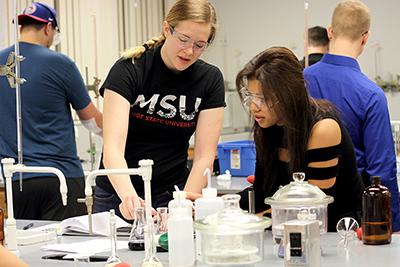 "As a new option under our existing B.A. in Chemistry, students pursuing our Medicinal Plant Chemistry option can expect it to be demanding, but also very rewarding. Students will begin by learning the chemical theory that drives the world around us, then will learn to apply that theory to solve problems specific to botanical industries. Educated, skilled workers with highly technical laboratory training are already in demand doing quality control and assurance work in the food and pharmaceutical industries. With recent changes, the DEA reclassifying CBD oil from a Schedule 1 substance to a Schedule 5 substance, for instance, that demand is expected to increase. We at Minot State have the ability to help meet that demand."
Chris Heth, assistant professor of chemistry
MINOT, N.D. – Minot State University will offer a third option in its chemistry major starting in the Spring 2019 semester focusing on extraction, purification, and analysis of compounds from plants.
The option, called Medicinal Plant Chemistry, will enter the academic catalog in Fall 2019, but students can begin work within the chemistry department starting next semester. Medicinal Plant Chemistry joins Professional Chemistry and General Chemistry as a third option for the Bachelor of Arts degree.
"Minot State University has a strong history of excellence in the sciences," Minot State President Steven Shirley said. "This new rigorous academic option in chemistry further solidifies that tradition by ensuring the next generation of graduates entering new and emerging fields have the knowledge and skills required to succeed."
The unique chemistry option is the first of its kind in the state of North Dakota and the upper Midwest region, and just the second such program at a four-year university in the United States.
"Skilled professionals are, and will continue to be, needed to perform extraction, purification, and analysis of products originating from plants," Minot State Vice President for Academic Affairs Laurie Geller said. "This new option creates additional opportunities for current and future students who want to pursue these emerging career fields."
While pursuing coursework in chemistry, biology, physics, and calculus and completing a capstone research project, students will earn over 600 hours of laboratory experience while focusing on the extraction, separation, and analysis of compounds and chemicals from plant material. Students will learn theory, skills, and techniques necessary to work in the medicinal cannabis, hops, botanical supplements, and food science industries. Hands-on laboratory experiences will prepare individuals for extraction, quality assurance, and quality control roles after graduation.
"As a new option under our existing B.A. in Chemistry, students pursuing our Medicinal Plant Chemistry option can expect it to be demanding, but also very rewarding," Chris Heth, assistant professor of chemistry, said. "Students will begin by learning the chemical theory that drives the world around us, then will learn to apply that theory to solve problems specific to botanical industries. Educated, skilled workers with highly technical laboratory training are already in demand doing quality control and assurance work in the food and pharmaceutical industries. With recent changes, the DEA reclassifying CBD oil from a Schedule 1 substance to a Schedule 5 substance, for instance, that demand is expected to increase. We at Minot State have the ability to help meet that demand."
According to Forbes magazine, the legal medicinal cannabis industry is projected to grow from $52 million in 2017 to $2.5 billion by 2027. As of September 2018, medicinal cannabis is legal in 31 states and D.C., and many states require the product to be used in its extracted form. Other botanical products, such as essential oils, are extracted using processes and techniques similar to those used for cannabis.
As craft brewing continues to grow, many hops suppliers have discontinued doing analysis of outside samples in order to focus on internal demands. As brewmasters increasingly use hops extracts in their recipes, the market for workers skilled in extraction and analysis is expected to grow in this industry. Minot State chemistry students will develop practical skills during lab, class, and research by analyzing plant products using instruments that are common to the industry.
"This program will be focused on the separation and analysis of plant products, with only a cursory look at the processes on either side," Heth said. "We won't be growing our own medicinal plants, but will instead analyze commercially available products: hops, herbs, or tea."
For more information on Medicinal Plant Chemistry, please contact Heth at christopher.heth@minotstateu.edu, or find information about the chemistry program at MinotStateU.edu/chemistry.  
About Minot State University
Minot State University is a public university dedicated to excellence in education, scholarship, and community engagement achieved through rigorous academic experiences, active learning environments, commitment to public service, and a vibrant campus life.
---