Spelchen named SGA Professor of the Year in Arts and Science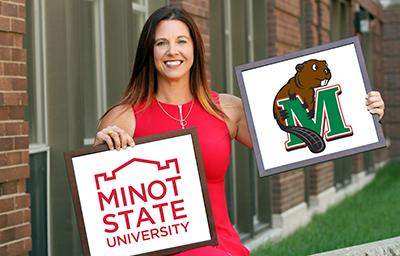 "I am, honestly, an arduous professor, I'm here to challenge students. Not just with the information I'm teaching, but with developing really exceptional citizens and the next work force. I challenge them in all different parts of the educational experience here at Minot State, so I'm very honored that they bestowed this award on me. And I will do my best to constantly remember that and always try to bring out the best in our students."
Melissa Spelchen, assistant professor criminal justice
MINOT, N.D. – Minot State University assistant professor Melissa Spelchen is the 2017-18 Professor of the Year for the Arts and Science at Minot State. The award is decided by the Student Government Association.
 Once a student herself, Spelchen was drawn to Minot State by a volleyball scholarship, but that isn't what motivated her to stay.
 "I wouldn't have stuck around if it was just about volleyball — if my education wasn't challenging me," she said.
Spelchen, originally from Canora, Saskatchewan, earned her degree at Minot State in criminal justice in 1998. She played volleyball throughout her college career and was inducted into the Minot State Hall of Fame in 2016 for a number of accomplishments as a student-athlete. Since her undergraduate graduation in 1998, she has been a coach at MSU, completed her master's degree in criminal justice at MSU, worked for the Rural Crime and Justice Center on campus, commuted and was the coordinator of the MSU at BSC Criminal Justice program in Bismarck, and is now an assistant professor in the Criminal Justice Department on the MSU campus while she completes her doctoral degree (at the University of North Dakota).
That appreciation for a challenge is a common thread throughout her academic and athletic career. It's what now drives her teaching style as an assistant criminal justice professor.
"I am, honestly, an arduous professor, I'm here to challenge students," Spelchen said. "Not just with the information I'm teaching, but with developing really exceptional citizens and the next work force. I challenge them in all different parts of the educational experience here at Minot State, so I'm very honored that they bestowed this award on me. And I will do my best to constantly remember that and always try to bring out the best in our students."
But bringing out the best in students requires more than challenges and life lessons. At Minot State, students are more than just another face in the crowd.
"If you want to be treated like somebody special immediately, then you come here," she said. "The faculty to student ratio is low, which leads to a hands-on experience no matter what you choose to participate in at MSU. Whether with an athletic sport, to research in the biology department, to the numerous student activities, to the several campus and local opportunities for business students, to the theater and musical productions, to the president being at most of your events whether you're into the arts or athletics — you're really going to be treated special from day one. That's unique."
For students interested in criminal justice, the department has opportunities for participation in hands-on learning in the field.
"Our students have the ability to do placements within our field experience class," Spelchen said. "Placements can be completed at the Minot Police Department, the State Probation office, the Dakota Boys and Girls Ranch, and the Ward County State's Attorney Office, among other local agencies."
If interested in law enforcement, Minot State criminal justice students have the ability to complete their POST academy training at MSU, in Minot (through Lake Region State College), within their typical four year college timeline.
"That is a tremendous opportunity! And now our Criminal Justice program is fully online, which opens up so many options for all styles of students anywhere," Spelchen said.
Whatever reason or department brings students to Minot State, they'll find something more than just book-learning.
"I came based off of a sport, but I really created a family and a home here — that's what it feels like at Minot State," Spelchen said. "It's why I've stuck around Minot from my time as an undergraduate student, to now teaching with hopes of becoming a tenured faculty member and continuing my professional career here for many years. You're not just going to get an education with information here, you're going to get an education on life and be supported, and everybody wants to be supported."

About Minot State University
Minot State University is a public university dedicated to excellence in education, scholarship, and community engagement achieved through rigorous academic experiences, active learning environments, commitment to public service, and a vibrant campus life.
---