Minot State to host Futurepalooza for high school students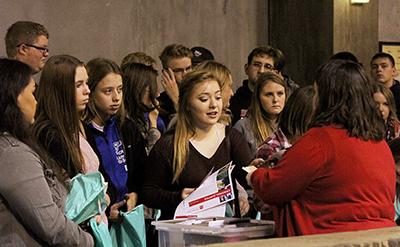 MINOT, N.D. – Minot State University will host its annual Futurepalooza for area high school students on Thursday, Sept. 13, at the Ann Nicole Nelson Hall and the Minot State Dome.
"Futurepalooza welcomes over 800 area high school students to learn more about opportunities after graduating high school," said Assistant Director of Enrollment Services Cole Krueger. "Keynote speaker Dr. Terry Eckmann will provide the students advice on how to live each day to the fullest. Students will also have the opportunity to visit with dozens of professionals within the community as well as representatives from post-secondary institutions throughout the region."
The keynote presentation will begin at 9 a.m. at the Ann Nicole Nelson Hall. Eckmann is chair and professor for the Department of Teacher Education and Kinesiology at Minot State. Following the presentation, a college and career fair will take place in the Minot State Dome from 10 a.m. until 12 p.m.
"The Dakota Association for College Admission Counseling (DACAC) coordinates 19 different college fairs throughout the state of North Dakota in the month of September. Futurepalooza is the only event that includes a keynote motivational speaker as well as a career fair portion," said Krueger.
The presentation and college and career fair is free and open to students, parents, and community members.
For questions about Futurepalooza, Krueger can be reached at Cole.Krueger@MinotStateU.edu or 858-4361.
About Minot State University
Minot State University is a public university dedicated to excellence in education, scholarship, and community engagement achieved through rigorous academic experiences, active learning environments, commitment to public service, and a vibrant campus life.
---