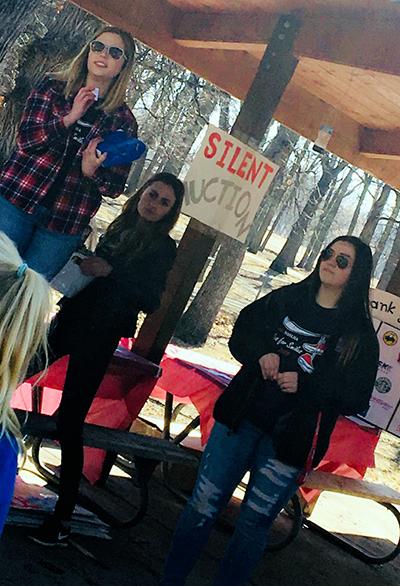 "NSSLHA will most likely be continuing the Miles for Smiles fundraising for the foreseeable future. The students love that it ties in so wonderfully with our profession and are very passionate about doing it."
Mary Huston, NSSLHA faculty advisor
University Communications
Students fundraise for smiles, offer important services
MINOT, N.D. – In the past seven years Minot State students in the Communication Disorders Department have raised thousands of dollars to provide over 200 life-changing surgeries to individuals born with cleft lips and cleft palates.  
The Minot State chapter of the National Student Speech Language Hearing Association organizes the Miles for Smiles fundraiser every year with proceeds going to Operation Smiles, a volunteer-based international medical charity that provides free surgeries to children and young adults with facial conditions.
"NSSLHA will most likely be continuing the Miles for Smiles fundraising for the foreseeable future," NSSLHA faculty advisor Mary Huston said. "The students love that it ties in so wonderfully with our profession and are very passionate about doing it."
The NSSLHA at Minot State has approximately 75 student members and raises additional funds for Operation Smiles through bake sales and silent auctions.
"The Miles for Smiles committee is always looking for new ways to fundraise," Huston said.
The NSSLHA also raises money every year for its members to attend the national American Speech-Language Hearing Association conference, to host the NSSLHA conference on campus, to donate to a selected charity through NSSLHA Loves, to donate to the American Speech-Language-Hearing Foundation, to sponsor a children's party for pediatric clients at the communication disorders clinic, and to buy new equipment for the clinic.
Members of NSSLHA also volunteer on a regular basis with YWCA, Ignite Light, ND Special Olympics, Meals on Wheels, MSU at the Mall, Red and Green Days, and Trinity Nursery Homes.
The Communication Disorders Department at Minot State provides an array of services to the community and is continuing to expand its offerings. A few new projects include a Parkinson's support group, and a post-concussion clinic where people who have experienced a concussion can get cognitive monitoring, rehabilitation therapy, and support.
Each semester the department also offers at least one cleft palate clinic. This is an opportunity for students to work closely with professionals to assess and support individuals with cleft palates.
ABOUT MINOT STATE UNIVERSITY
Minot State University is a public university dedicated to excellence in education, scholarship, and community engagement achieved through rigorous academic experiences, active learning environments, commitment to public service, and a vibrant campus life.
---