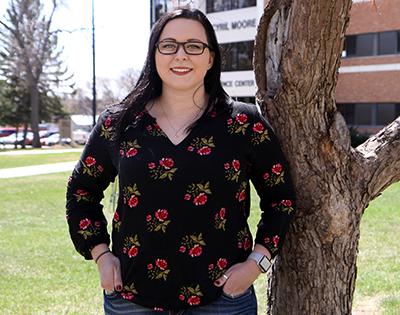 "I've always wanted to be a teacher. The education department is very demanding, but so is doing research. At times I've had to make sacrifices to one to do the other, but it has also taught me how to balance. I've probably spent more time in the chemistry department, but when you are doing research and project-based stuff, that really goes with being a teacher."
Stephanie Sundhagen, senior, chemistry education
University Communications
Senior Spotlight: Stephanie Sundhagen
Chemistry, education the right formula for Sundhagen
MINOT, N.D. – Senior chemistry education major Stephanie Sundhagen admits she probably has spent more time in the lab with research than honing her skills to prepare to be a teacher.
But there is no doubt when asked if she is a chemist or an educator.
"Definitely an educator," Sundhagen, from Tioga, N.D., said. "I've always wanted to be a teacher. The education department is very demanding, but so is doing research. At times I've had to make sacrifices to one to do the other, but it has also taught me how to balance. I've probably spent more time in the chemistry department, but when you are doing research and project-based stuff, that really goes with being a teacher."
Sundhagen came to Minot State thinking she would be a music educator. But, over her first year in school, she was encouraged by her research professors Lucy Bobyleva and Mikhail Bobylev to give chemistry a try.
She was hooked.
"I learned a lot more about organic chemistry in general and the career options for organic chemistry. It's not just working in the lab," she said. "If my (future students) want to be doctors or optometrists or nurses, the basis of all of those is going to be chemistry. To be successful in those future careers – and even business or other majors – understanding chemistry is relatable."
While working on her teaching degree and doing research is demanding, Sundhagen has still found time to be active in the Minot State community, the greater Minot community, and in her hometown of Tioga.
On campus, she is a member of the Residence Hall Association, serving as the Crane Hall representative in 2015-16 and as president for 2016-17. Sundhagen is a College of Arts and Sciences Senator on the Student Government Association, a member of the MSU Science Club, and a member of the MSU Student Chapter of the American Chemical Society, where she has served as treasurer for the past two years.
Sundhagen's association with the MSU Student Chapter of the American Chemical Society has allowed her to present at the past two American Chemical Society National Conference, this past year in New Orleans.
"Research has been very important to me," she said. "I'm really proud to have represented Minot State at the national conference. It shows how many good opportunities there are here at Minot State."
In Tioga, she has been a lifeguard at the community pool and will manage the pool this summer – something she is looking forward to.
"I've always tried to be involved and to give back, not just for the Minot community, but for Tioga too. It's been nice to be close enough to home to go back and be active in that community as well as here," she said. "The pool is a big thing for a town the size of Tioga and to be able to provide swim lessons and help manage the pool – that's been more than just a job. I have a passion to help educate little swimmers."
ABOUT MINOT STATE UNIVERSITY
Minot State University is a public university dedicated to excellence in education, scholarship, and community engagement achieved through rigorous academic experiences, active learning environments, commitment to public service, and a vibrant campus life.
---