Senior Spotlight: Jade Teske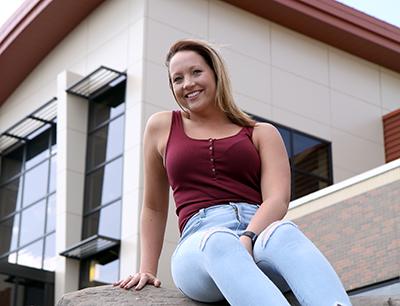 "The goal right now is to get an education job in K-12. I have experience in multiple age groups so I'm not focusing on one, I'm just looking for some training right now. But corporate fitness and wellness management has provided me with more opportunities outside of just traditional physical education. It's opened new doors to areas that are trending right now like personal training and working in clinics."
Jade Teske, senior, corporate fitness and wellness management
MSU opens new doors for Teske
MINOT, N.D. – Minot State University senior Jade Teske talks passionately about how her corporate fitness and wellness management degree at MSU has opened new doors to explore the world.
And no, it's not just a cliché.
"Minot State and being in the corporate fitness and wellness management major has allowed me to attend and present in so many different places, to travel to different conventions like in Minneapolis and Toronto (Canada), and to teach in Jamaica," she said. "I've been able to really get great experience in my field at those different sessions."
Teske, from Westhope, N.D., traveled to Jamaica on the International Teaching Tour, where she taught water aerobics and yoga. She also gained valuable experience in her field working at the Minot State Wellness Center, earning Employee of the Month in August 2015.
"One of the best things about Minot State was working at the Wellness Center and getting to teach group exercise," Teske added. "It was nice to be able to work there and get that experience while in college."
Teske originally chose Minot State based more on reputation as a school in general than a specific major. She began as undecided before choosing nursing and then physical education. In the end, she credits her advisor, Dr. Terry Eckmann, with helping turn an undecided freshman into a corporate fitness and wellness management senior.
"Dr. Eckmann had a huge influence on me and sparked a passion in me," Teske said. "I think I always thought about being a teacher and I come from a family of teachers, but Dr. Eckmann helped me get on track.
"Minot State was very close to home and I have family here, so those were both big factors. I originally played golf for MSU, so that was a factor too. Minot just seemed like the best place for me."
While she plans on pursing a teaching position after graduation, she believes corporate fitness and wellness management has given her plenty of options for future careers.
"The goal right now is to get an education job in K-12. I have experience in multiple age groups so I'm not focusing on one, I'm just looking for some training right now," Teske said. "But corporate fitness and wellness management has provided me with more opportunities outside of just traditional physical education. It's opened new doors to areas that are trending right now like personal training and working in clinics."
About Minot State University
Minot State University is a public university dedicated to excellence in education, scholarship, and community engagement achieved through rigorous academic experiences, active learning environments, commitment to public service, and a vibrant campus life.
---