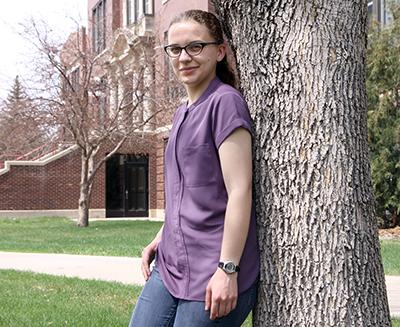 "I take big steps carefully. I considered other colleges in the state but MSU was familiar to me, and it has a really good business program. It wasn't too much change all at once. I could still stay connected with my support network while expanding my comfort zone."
Emily Miller, senior, management information systems
University Communications
Senior Spotlight: Emily Miller
Miller pushes personal boundaries, helps fellow students
MINOT, N.D. – For senior management information systems major Emily Miller the past four years has been about expanding her comfort zone while making an impact on campus.
Miller, a self-described shy person, has managed to keep herself busy at Minot State, excelling in the classroom while also working as a tutor, orientation leader, and student assistant in the enrollment services office.
Originally from Glenburn, N.D., Miller was involved in a number of school activities; she played the French horn and piano, and was a regular with the speech and drama club.
Then in her last two years of high school, Miller discovered an interest in business technology after volunteering in her school's tech department.
"I helped set up computers, worked with the server, and did miscellaneous spreadsheets for all sorts of applications," Miller said. "It got me hooked on the combination of business and computers."
Minot State's proximity to home and its degree offering in management information systems appealed to Miller who received the prestigious Great Plains Scholarship as an incoming freshman.
"I take big steps carefully," Miller said. "I considered other colleges in the state but MSU was familiar to me, and it has a really good business program. It wasn't too much change all at once. I could still stay connected with my support network while expanding my comfort zone."
One of Miller's first big steps outside her comfort zone, was the offer to tutor accounting after she impressed her professor.
"I was hesitant at first," Miller recalled. "Partially because of the talking to people and a lack of confidence in my knowledge of the subject."
Nevertheless, Miller took the leap into tutoring. And she's very glad she did.
"Tutoring gives you the chance to look at things in another way," she said. "It's all about 'How do I make sure that I can effectively communicate something that is stuck in my head to the other person and help them apply it to their situation?' It's helped me become more familiar with the material, develop my communication skills, and to connect with other students."
With graduation on the horizon, Miller admits that what she will miss most about her time at MSU is the people she has met.
"I can walk down the sidewalks and wave at people I know, and it makes me feel like I'm part of a community," she said.
ABOUT MINOT STATE UNIVERSITY
Minot State University is a public university dedicated to excellence in education, scholarship, and community engagement achieved through rigorous academic experiences, active learning environments, commitment to public service, and a vibrant campus life.
---