Richard re-elected as SGA president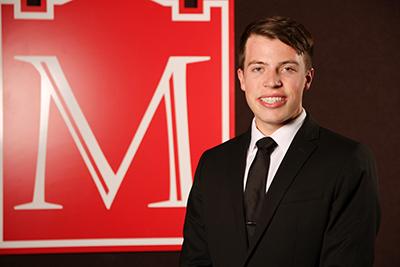 "I am very thankful to be re-elected as the Student Body President. Our Senate and Executive Board is full of so much potential, and it excites me to think about what our organization will accomplish next year. I look forward to continuing to represent our student body to the administration, and am eager to push forward issues like student transportation and sustainability while continuing some of the events which SGA has implemented like the Community Fair again this fall."
Aaron Richard, SGA President
MINOT, N.D. – Minot State University Student Government Association will have a familiar face as its president as senior Aaron Richard was elected president for the second straight year.
"I am very thankful to be re-elected as the Student Body President," Richard said. "Our Senate and Executive Board is full of so much potential, and it excites me to think about what our organization will accomplish next year. I look forward to continuing to represent our student body to the administration, and am eager to push forward issues like student transportation and sustainability while continuing some of the events which SGA has implemented like the Community Fair again this fall."
Along with Richard, three of the four vice presidents will return for another year. Vice President for Finance, Kaitlin Walker, and Vice President for State Affairs, Bikalpa Ghimire, were both re-elected to serve in 2018-19. The students elected Noah Grant as vice president for internal affairs for the upcoming school year.
"Next year I want people to know that my door is always open for new ideas and that I can be reached via email, Facebook, or simply by dropping by during one of my office hours," added Richard.
Along with the Executive Board, the students selected senators in seven areas.
Representing College of Arts & Sciences are Bryanna Guzman, DeAndra Miller, and Felicia Arias. College of Education & Health Sciences will be represented by Cassandra Daniel, Sydney Clark, and Shelby Tornato. Ann Godwin and Kayla Grandy were elected from the College of Business, Ameila Hammen and Brett Hlebechuk were elected as On-Campus Senators, Gideon Amponsah and Cambree Smith were selected as Off-Campus Senators, Semurana Faleali'i was chosen as Graduate School Senator, and Haley Hernandez will represent Athletics.
General Studies and Freshman Senators will be chosen in the fall, while the College of Arts & Sciences, College of Education & Health Sciences and College of Business will also fill out their senator rosters in the fall.   
About Minot State University
Minot State University is a public university dedicated to excellence in education, scholarship, and community engagement achieved through rigorous academic experiences, active learning environments, commitment to public service, and a vibrant campus life.
---