MSU SAAC, Title IX office partner for 'It's On Us' campaign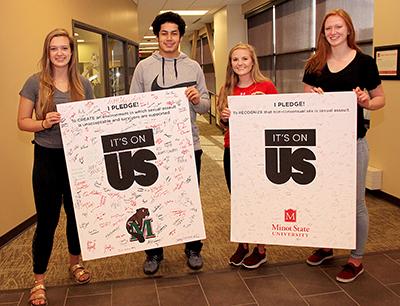 "Our SAAC group has worked with the Title IX Office that past few years during the spring to raise awareness about sexual assault prevention through 'It's On Us.' This year we wanted a visual representation showing student support across campus. We had a signature board placed in the Student Center and another one set up in the Dome."
Steve Swenson, SAAC advisor / Associate Athletic Director for Compliance & Student Life
MINOT, N.D. – Minot State University Student Athlete Advisory Committee (SAAC) and the Minot State Title IX office partnered during the spring semester on the national "It's On Us" campaign to end sexual assault.
SAAC members created a visual representation of the support on the MSU campus with two signature boards students, faculty, and staff signed during the semester.
"Our SAAC group has worked with the Title IX Office that past few years during the spring to raise awareness about sexual assault prevention through 'It's On Us,'" SAAC advisor and Assistant Athletic Director for Compliance & Student Life Steve Swenson said. "This year we wanted a visual representation showing student support across campus. We had a signature board placed in the Student Center and another one set up in the Dome."
Launched in September 2014, "It's On Us" is a national movement to end sexual assault. The campaign was launched following recommendations from the White House Task Force to prevent sexual assault that noted the importance of engaging everyone in the conversation to end sexual violence. "It's On Us" asks everyone – students, community leaders, parents, organizations, and companies – to step up and realize that the conversation changes with us. The campaign combines innovative creative content and grassroots organizing techniques to spark conversation on a national and local level.
Over the past two years, almost 300,000 people have taken a stand against sexual violence by taking the "It's On Us" pledge. The campaign works with 95 partners and students on over 500 campuses.
Junior Emily Faldorf is Minot State SAAC's "It's On Us" chair and helped coordinate with the MSU Title IX office for this year's banner signing event as well as other outreach projects for the campaign.
About Minot State University
Minot State University is a public university dedicated to excellence in education, scholarship, and community engagement achieved through rigorous academic experiences, active learning environments, commitment to public service, and a vibrant campus life.
---