Sunday Funday to raise awareness for elementary students in need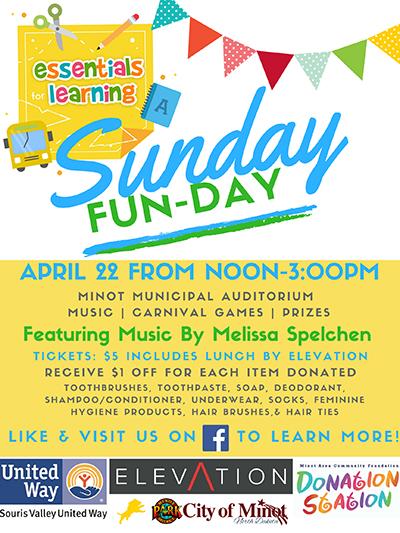 MINOT, N.D. – Minot State students will host a Sunday Funday carnival that features games, bouncy castles, music, and food at the Minot Municipal Auditorium, Sunday, April 22, noon-3 p.m.
The event aims to raise awareness and donations for Essentials for Learning, a new community program that will collect and distribute personal hygiene items for elementary students in need. 
Students of the Roger Looyenda Leadership Development Program at MSU developed the idea for Essentials for Learning after visiting McKinley Elementary School, talking with Minot Public School employees, and discovering that there are students in need of personal hygiene products like toothpaste and deodorant.
"Originally we were planning on collecting school supplies but then we realized that the biggest need was personal hygiene products," MSU Student Government Association President Aaron Richard said, " Sadly, there are kids that don't have access to these things."
The Essentials for Learning program will launch at McKinley Elementary in Fall 2018.
"Our goal is to raise $10,000 in the form of monetary or physical donations to help kick start the program in the district," Richard said.
Community members attending the Sunday Funday event will have a chance to learn more about the Essentials for Learning program and how to donate to it. Ticket prices for Sunday Funday are $5 but individuals can receive $1 off for each personal hygiene item they donate including, toothpaste, toothbrushes, soap, deodorant, shampoo, conditioner, underwear, socks, feminine hygiene products, hair brushes, and hair ties.
About Minot State University
Minot State University is a public university dedicated to excellence in education, scholarship, and community engagement achieved through rigorous academic experiences, active learning environments, commitment to public service, and a vibrant campus life.
---