MSU celebrates Northwest Arts Center Grand Opening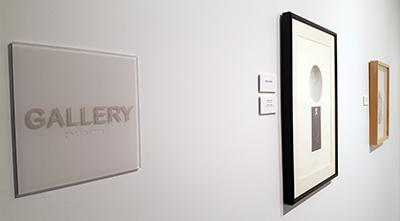 "For our region to have a facility like this one that passes the muster of being a major museum with the kind of climate controls to receive first-class exhibitions was very important to me. That is the real importance of a project like this."
Walter Piehl
MINOT, N.D.
– Minot State University will commemorate completion of the new Northwest

Arts

Center, the Walter Piehl Gallery, and the Native American Artifact Collection with a grand opening celebration from 5 to 8 p.m., Thursday, April 19, in the lower level of Gordon B. Olson Library.
The dedication program will start at 6:15 p.m., while the exhibition is slated to run until June 8.
Mandan-Hidatsa storyteller/musician Keith Bear, New Town, N.D., and cowboy poet/singer-songwriter D.W. Groethe, Bainville, Mont., will participate in the dedication and during the day at MSU.
Piehl, who recently retired from a 50-year career teaching art at MSU, is donating a major body of his work to the center's permanent collection. The grand opening exhibit, "Retrospective: Covering 1962-2018," is an overview of his work.
"For our region to have a facility like this one that passes the muster of being a major museum with the kind of climate controls to receive first-class exhibitions was very important to me," Piehl said. "That is the real importance of a project like this."
Groethe was born and raised in western North Dakota where he learned to play the guitar. As a natural extension of his music, his poetry is filled with anecdotal humor and the wisdom of cowboy life.
Bear is a Mandan-Hidatsa storyteller and musician /educator who has performed extensively throughout the United States and Europe. Keith weaves a magic of story, song, history, and personal reflection that enchants audiences of all ages.
Bear and Groethe are scheduled for an informal performance and presentation at MSU's Aleshire Theatre at 9:30 and 11 a.m. Thursday that is free and open to the public, including free parking during the event.
The 6,730 square-foot facility is transitioning to be the permanent home for the Northwest

Arts

Center, replacing the gallery located in MSU's Hartnett Hall. The new gallery, display cases, and storage areas are climate controlled, providing protection for MSU's permanent collections and artifacts. The center will also be the permanent display space for MSU's premier Native American artifacts collection, including the Ralph Hubbard Collection, the Harold Robinson Collection, the Clarence Parker Collection, the Wilson Collection, and the Miller-Tibbs Collection, and as well as other MSU art collections
The gallery hours are 9 a.m. to 4 p.m., Monday through Friday. Parking and visitor entrance are on the south side of the library. Exhibits at the Northwest

Arts

Center are free and open to the public.
The Northwest

Arts

Center is funded in part by a grant from the North Dakota Council on the

Arts

, which receives funding from the state legislature and the National Endowment for the

Arts

.
About Minot State University
Minot State University is a public university dedicated to excellence in education, scholarship, and community engagement achieved through rigorous academic experiences, active learning environments, commitment to public service, and a vibrant campus life.
---