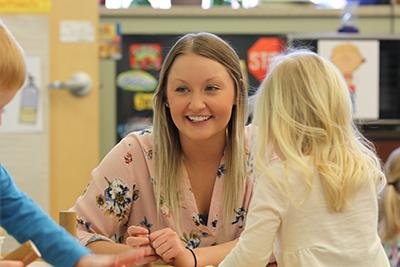 "The program has been successful thus far and fills a need for educators who must earn ECE degrees, but will not teach in the public schools or seek licensing through ESPB."
Leslee Thorpe, MSU teacher education and human performance instructor
University Communications
Minot State offers new degree for non-teacher licensure programs
MINOT, N.D. – Minot State is now offering a Bachelor's of Science degree in early childhood education for educators in non-teacher licensure programs such as Head Start.
The new degree is different from the BSED in early childhood education which is designed for teachers who want to teach in public schools.
"The program has been successful thus far and fills a need for educators who must earn ECE degrees, but will not teach in the public schools or seek licensing through ESPB," MSU teacher education and human performance instructor Leslee Thorpe said. 
Currently in its first semester of being offered, the program has 18 enrolled students.
The new program is taught by several MSU teacher education instructors who are teaching these classes on site in New Town or online.
For more information about this new degree offering please visit the Minot State website at http://www.minotstateu.edu/.
ABOUT MINOT STATE UNIVERSITY
Minot State University is a public university dedicated to excellence in education, scholarship, and community engagement achieved through rigorous academic experiences, active learning environments, commitment to public service, and a vibrant campus life.
---